Movie Review For It's Kind of a Funny Story, Starring Zach Galifianakis and Emma Roberts
It's Kind of a Funny Story: Kinda Funny, Kinda Slow
The Hangover put Zach Galifiankis on the map, thanks to his oddball character and hilarious one-liners, but It's Kind of a Funny Story lets him break out of that stereotype to show us something we haven't really witnessed before: his serious side.
Galifianakis stars as Bobby, a patient at a hospital's psychiatric ward who heads up a group of mental misfits. Bobby is the floor's unofficial host of sorts, so when he comes across Craig (Keir Gilchrist), he immediately takes the kid under his wing. Craig is a teenage boy with major anxiety issues (he projectile vomits whenever he gets stressed). After an all-too-real dream about suicide, Craig admits himself into medical care out of fear that he may be a danger to himself.
Did I mention this is a comedy? Gilchrist may be the movie's protagonist, but it's Galifianakis who keeps the film afloat. For more on what I mean, read more.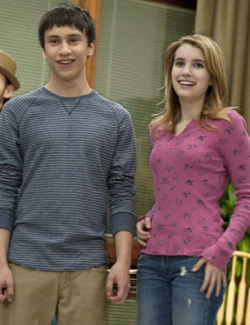 Craig is more depressed than the average high school student, but the reason for his sad state is all too common: he's distraught over a girl (Zoe Kravitz). Add in pressure to perform well at school, and Craig's mind constantly races with thoughts of woe. As the viewer, we're let into his head as it jumps between teenage daydreams of starring in MTV's Cribs, flashbacks to childhood with his parents (Lauren Graham and Jim Gaffigan), and future worst-case scenarios. But as for the actual action of the film, not much happens.
While there are some sweet moments, the lack of plot paired with the often-depressing subject matter causes the film to drag, to the point where even the audience might feel a little crazy stuck within the hospital walls. Luckily, the cast musters up enough charm to keep interest. Gilchrist, Emma Roberts (who plays his love interest), and the ensemble of kooky oddballs (including Lost's Jeremy Davies) are quick to endear you to them. A daydream sequence where they bust out a rendition of "Under Pressure" in '80s glam costumes is a particularly fun highlight. But above all, the shining star of the project is Galifianakis.
From the moment that we're first introduced to Bobby in his fake ER doctor getup, it's hard not to chuckle at his hilarious deadpan. However, viewers will also be pleasantly surprised by how easily the comedian switches gears. Bobby isn't just your likeable loser with a screw loose; he has his share of personal problems. The film tries not to dwell too long on these darker subplots, but we get just enough to see that toned-down Galifianakis indeed has the chops to pull off the somber moments.
In the end, his performance is the major takeaway of this film, not its message of normality or the pursuit of happiness. He succeeds in carefully balancing the morose with the comedic, which is something that the film struggles with. Though it succeeds in instances, overall — like its characters — something is a little off.