Movie Review of The Last Station, Starring Christopher Plummer, Helen Mirren, and James McAvoy
The Last Station: Fine Actors Stuck on a Ride That Lags
Watching the trailer for The Last Station, it looks like the sort of period dramedy that I like to latch on to. You have romance, lavish costumes, witty banter, and Helen Mirren and Christopher Plummer, who have already earned award nominations for their performances. But somewhere on the film's journey it switches routes, traveling down a more sullen path and losing luster on the way.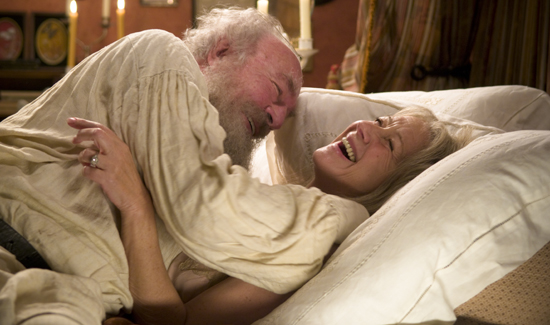 It's after the printing of War and Peace and Anna Karenina, and novelist Leo Tolstoy (Plummer) is unsure what to do with his works as he nears the end of his life. Vladimir Chertkov (Paul Giamatti), Tolstoy's trusted advisor, wants to make his writings the property of the Russian people; Countess Sofya Tolstoy, his wife of 48 years, believes the books belong to the family.
Enter Valentin (James McAvoy), a follower of the Tolstoyan movement (a new religion based on Tolstoy's principles) who arrives to serve as the author's personal secretary, and things really begin to shake up. To see what I mean,
.
Valentin is a conservative, by-the-book young man with a habit of sneezing whenever he gets nervous — which he does, a lot. As he's thrust into the world of Tolstoy and into the author's own home, he begins to question his beliefs. Not only does he fall for an impulsive, opinionated woman named Masha (Kerry Condon), but as he spends more time with Sofya and Vladimir, he also becomes a pawn in their battle for Tolstoy's attention.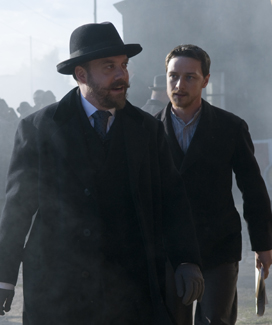 We see the film through Valentin's eyes, and McAvoy adeptly portrays the idealism and naivete needed for the part. As he meets Tolstoy for the first time and tears up, you sense just how momentous it is for him. Still, this film ultimately belongs to Plummer and Mirren. Mirren fully captures Sofya's fiery spirit, and it's nearly impossible to take your eyes off her. She and Tolstoy are essentially two people who have very little in common other than a long history and mutual admiration. The scenes where she climbs into bed with Plummer or the two lay down laughing are tender and endearing.
Unfortunately, these moments are fleeting. As Tolstoy's health worsens, the film begins to flatline as well. He's so integral that once he's nearing death, the story loses its energy and has nowhere else to go.
Essentially this feels like a movie that would've worked well (perhaps even better) as a Broadway play. You have the all-star cast, but unfortunately the plot itself often isn't interesting enough to translate to a big screen favorite.
If you'd like to review a movie you've seen recently, check out the Movie Reviews Group in community. I may even feature your critique on the site!
Photo courtesy of Sony Picture Classics