Movie Review of Noah Baumbach's Greenberg, Starring Ben Stiller
Greenberg: A Harsh Look Under a Magnifying Glass
It always feels slightly off when a comic actor takes on a serious role. Not that Ben Stiller hasn't proven his flexibility with fare like Reality Bites or Friends & Neighbors, but never before has he seemed so straight-faced, vulnerable, and well, depressing, as he does in Noah Baumbach's latest Greenberg. In fact, it took a few scenes for me to settle in to Stiller as Roger, a 40-year old with severe social and mental anxiety. His face is tired, there's no sense of a smirk — even Stiller's gray hair is on display (Derek Zoolander would not be pleased).
The film follows Roger as he returns from a recent institutional visit (due to a nervous breakdown) to house-sit for his brother Phillip (Chris Messina). He spends his days writing angry letters to Starbucks and Mayor Bloomberg, and looks on as neighbors play in the backyard pool, afraid of human contact. The only lifeline Roger actually makes is the family's personal assistant, Florence (Greta Gerwig) and their German shepherd.
Almost immediately, Florence and Roger hop into a bumbling courtship. Roger seems drawn to her mid-twenties youth; Florence, in turn, is grappling with quarterlife uncertainty about life, and in Roger she sees someone much older who hasn't figured it all out either. It seems feasible that they'd get together, but not quite as likely that she'd put up with him. Basically, Roger is a very unlikeable guy, and like most Baumbach movies, his human flaws are both intriguing — and painful — to watch.
To see what I mean, read more.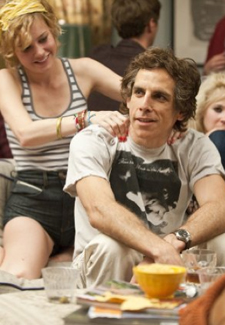 Through interactions with his ex Beth (Baumbach's wife and muse Jennifer Jason Leigh) and longtime friend Ivan (a great Rhys Ifans), we learn that Roger has always been motivated by selfish reasons. In his earlier days, he had a band with Ivan, which he single-handedly ruined after refusing to agree to a contract. As such, Roger still doesn't want to commit to anything. It's an issue which is further brought to light as Florence suggests that he be her boyfriend. He handles the situation by doing what any self-involved person might — he snaps at her. Not once, but many times. Unable to hang around Florence or people his own age, Roger instead turns to his niece's teenage friends, doing coke like it's the eighties and rambling on about olden days. Will he ever get a reality check?
Oh, it comes. But not quite with the clearly-defined resolution that you might hope for.
Stiller is great in the role, portraying Roger with a subtle touch. But perhaps his performance is overshadowed by just how much you want to shake Roger. Instead, I'd argue that the film actually belongs to Gerwig. How refreshing to watch an actress who looks and acts like a regular woman, and as Florence, she evokes that somewhat-needy, twenty-something girl that we all know and love despite her questionable choices. Florence is the heart of the film, and as such, she keeps it from completely succumbing to the doldrums. Be warned though, there are no laughs or real sweetness here. You'll likely find yourself feeling mixed about Roger and the film, because frankly, they're both downers. But as character self-examination goes, Greenberg still makes for an interesting study.
If you'd like to review a movie you've seen recently, check out the Movie Reviews Group in community. I may even feature your critique on the site!