Movie Review of Predators Starring Adrien Brody and Topher Grace
Predators: It's Human Season
Alien gore is very rarely my cup of tea, but Predators — the Robert Rodriguez-produced sequel to the 23-year-old franchise — manages to please my entertainment appetite, while minimally triggering my gag reflex.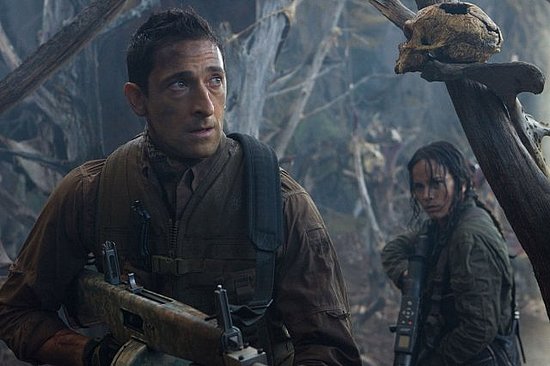 That wasn't the only surprise about this Summer flick: Adrien Brody, whose very casting inspired confusion, actually fits nicely into the role of rugged, take-no-prisoners action hero. OK, so he's using his best Christian Bale-as-Batman voice, but he pulls off the part with swagger to spare (his physical transformation — six-pack abs and huge guns — certainly help too). Brody plays the reluctant leader of a band of strangers mysteriously dropped in a jungle with nothing in common, except that they're all killers in some capacity. The first chill comes in the revelation that they've been chosen for a mission — to be the most dangerous game for bloodthirsty alien predators.
To hear more, just
.
In a world where science fiction films rely almost completely on CGI effects and horror movies are the domain of jump scares and gore, Predators keeps a refreshing distance from these conventions. Instead, the quiet and genuinely creepy atmosphere provides the bulk of the terror. The dread-locked creatures (mostly unchanged from the '80s era image) are frightening too, but not in an overt, eat-your-face kind of way. Just the knowledge that the eight main characters are being hunted by intelligent yet ugly monsters is enough to have you biting your nails in the theater.
As expected, there's not a whole lot of character development — heck, for some, you barely even catch a name — but it's not necessary. Alice Braga and Topher Grace get the most screen time next to Brody, and though we never really learn much about these people, there are still shocking reveals to be had, just as you start to tire of violent alien battles.
Those kinds of surprises are par for the course here; Predators is the scary movie you expect — but it cares enough to throw in a really good plot twist when you're not looking.