Movie Review of Solitary Man Starring Michael Douglas
Solitary Man: Better Left Alone
Hollywood's latest archetype appears to be the older man in search of himself. We witnessed it most recently with Ben Stiller in Greenberg, and now comes Michael Douglas ready to give the role a go in Solitary Man.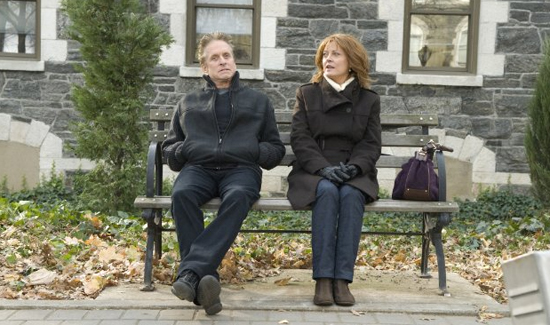 Douglas stars as Ben Kalmen, a 60-something divorcee and former car magnate who now uses his smarmy sales techniques to pick up women half his age — some as young as 18. He has no discretion, often ogling the prospective one-night stands in front of his ex-wife (Susan Sarandon), daughter (Jenna Fischer), and even his grandson (who he insists should never call him "grandpa" in public). It's an obvious case of Peter Pan syndrome, spawned by a heart scare. You almost want to feel bad for the man for his desperate attempt to reclaim his youth, but it's hard to do when he'd rather bed women than get his health checked.
And there is the rub. Douglas could give the performance of his life in Solitary Man (and trust me, he is excellent), but the character of Ben is so hard to like — and unfortunately, the movie is all about him.
For more on what I mean
.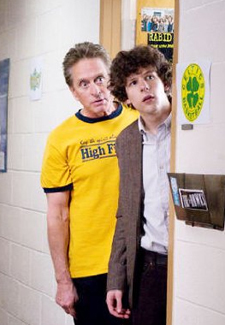 Ben once committed shady money dealings that nearly landed him in jail, cost him a chunk of change in bail, and ruined all of his professional — and most of his personal — relationships. To get back on his feet, he's dating a wealthy businessman's offspring (Mary-Louise Parker) in the hopes of using daddy's influence to his benefit. So to keep his lover happy, he agrees to take her daughter (Imogen Poots) to his alma mater for her college interview. After a couple drinks at the hotel bar, he jumps into bed with the young girl and really screws things up.
All of the supporting characters are great here: Jesse Eisenberg is adorable as a bumbling freshman who Ben mentors, Sarandon is sharp as his ex-wife, and Danny DeVito plays a loyal old college friend. But whenever they appear on the screen, it's not nearly for long enough, and it all goes back to Ben's issues.
Despite Ben trying to dig himself out, he manages to mess up every opportunity by thinking with his libido instead of with his brain. As a result, he spins his wheels, and the film doesn't seem to go anywhere either. Ben just continues to fall deeper and deeper, and we're left in limbo, waiting for him to grow up for good — but perhaps that's asking too much.
If you'd like to review a movie you've seen recently, check out the Movie Reviews Group in community. I may even feature your critique on the site!