Movie Review For Twilight Eclipse, Starring Kristen Stewart, Robert Pattinson, and Taylor Lautner
Eclipse: Third Time's the Charm
Many Twilight followers consider the third book to be the best, and the same can be argued for its film adaptation (at least so far). From the opening sequence with new character Riley (Xavier Samuel) running through the streets of Seattle, it's obvious that the production value for Eclipse has been upped. The fight scenes feel sharper, the CGI wolves are more lifelike, and even Edward's looks have benefited (yes, Robert Pattinson is even dreamier here than in New Moon).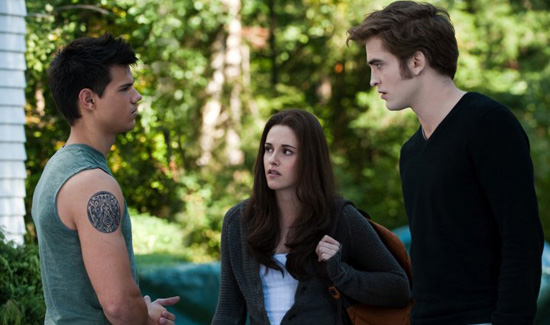 The story picks up with Edward (Robert Pattinson) and Bella (Kristen Stewart) in their regular meadow, as they discuss Edward's proposal from the last film. Bella has her reservations about saying yes, but her desire to be changed into a vampire is wearing her down. The couple have bigger issues, however; newborn bloodsuckers are on the loose in Seattle, plus Alice (Ashley Greene) foresees Victoria (Bryce Dallas Howard)'s return to Forks in search of vengeance. If you've read the novel, you know what happens, but that doesn't make the events any less exciting. For more on what I mean, just keep reading.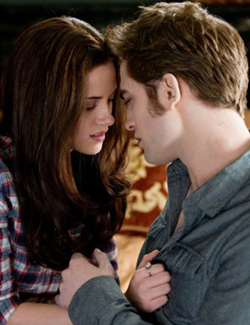 In order to combat Victoria and the thirsty newbies, the Cullen family must band together with the wolf clan. It also means that Jacob (Taylor Lautner) and Edward must finally agree to a truce. The boys' rivalry is at a boiling point in this installment, as they spew insults in each others' faces. It's melodramatic to the point of being unintentionally comical; but the film doesn't shy away from poking fun at the Jacob versus Edward debate. Case in point: cheeky lines like Jacob boasting to Edward, "Well, I am hotter," and Edward taking a jab at Jacob for his constant lack of clothing. It's these moments that keep the film from getting mired in its own self-seriousness.
But it's not all Jacob, Edward, and Bella. In Eclipse, we also get a glimpse at the back-story for two other Cullens: Rosalie and Jasper. What could have been a totally campy flashback in period clothing turns out to actually be a fairly well-done peek into their previous lives. We finally hear more than two words from Jasper, and — surprise! — his Southern accent is out in full effect. It's one of the film's highlights and left me craving more.
Most of the film's problems are the same issues found in the book series — inconsistencies and syrupy dialogue. While the over-the-top proclamations of love may cause some viewers to scoff, the chemistry between Kristen Stewart and Robert Pattinson feels more solid than ever (of course, it helps that there are make-outs aplenty). But more than anything, Eclipse has eased my concerns about Breaking Dawn. Splitting the last installment into two films is a huge undertaking, but with this film, the Twilight franchise seems better fit for the challenge. All there's left to say is: bring it on.
If you'd like to review a movie you've seen recently, check out the Movie Reviews Group in the BuzzSugar Community. I may even feature your critique on the site!
Photos courtesy Summit Entertainment