Movie Review of Unstoppable, Starring Denzel Washington, Chris Pine, and Rosario Dawson
Unstoppable: Entertainment at High Speeds
Full disclosure: I went into Unstoppable expecting to be bored. How could a film about a train possibly keep me entertained for more than twenty minutes? But the movie is like watching a car chase on TV (and I mean that in the best possible way). There's not a ton of plot (it really is just a runaway train), and it doesn't dwell on character development — but you'll still get sucked into the nonstop action.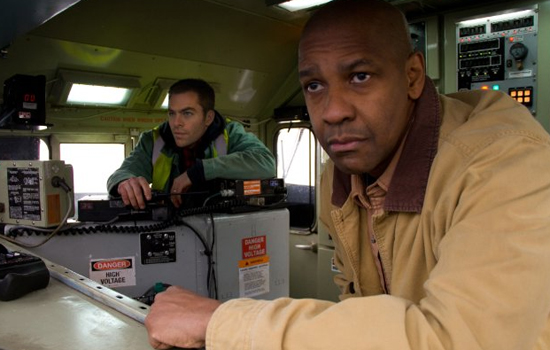 Chris Pine stars as Will, a railroad newbie assigned to work under the watch of veteran engineer Frank (Denzel Washington). It's their first day on the job together, and a challenging one at that. The fiasco begins when two dim-witted railroad employees working at a local outpost accidentally let one of the cargo-carrying locomotives get away from them. It's a classic scenario of whatever can go wrong, will go wrong, but that's not the case with the movie itself. In fact, the movie gets a lot right. To find out what I mean,
.
As the unmanned train speeds toward a populated area with explosives on board, railway bigwigs (and a dispatcher played by Rosario Dawson) try everything in their power to put it to a stop. Despite their best efforts, they're up a creek, er, track with no other options. That's when Will and Frank step in. Though they butt heads, they'll work together, risk their lives, and win one for blue-collar guys everywhere.
The film is loosely inspired by real-life events, so you can probably surmise that everything is going to turn out okay (these inspirational "based on a true story" films rarely have unhappy endings). But even though the outcome is fairly clear, the movie still keeps you on the edge of your seat. Like the train, it starts off slower to set up the plot, but once it gets going, the speed is enjoyably frenetic. Will the train derail? Explode? And what about the school children who are on a different train but on the same track?
Unstoppable is what it is: mindless, yet engaging entertainment. It keeps things simple to its benefit, and you'll be happy to be along for the ride.