Movie Review For When in Rome Starring Kristen Bell and Josh Duhamel
When in Rome: A Mindless Escape
The formula for a typical romantic comedy is simple: you need two attractive actors and a plot that makes enough sense to keep the audience's attention. Everything else is a variable (friends, setting, dialogue), but those first two basics are what determine a rom-com's success. For When in Rome, the casting of Kristen Bell and Josh Duhamel is a hit — but the plot, about a woman who unwittingly makes several men fall in love with her after stealing coins from a "fountain of love" — is a complete and utter miss.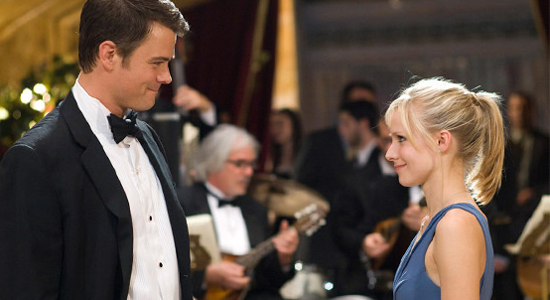 Fortunately, it's not an altogether unpleasant experience — thanks to the naturally funny leads and supporting cast of Will Arnett, Dax Shepard, Jon Heder, and Danny DeVito (the poor saps in love with Bell's character, Beth), the movie is genuinely entertaining in parts. There are even laugh out loud moments . . . when the characters aren't talking about the "Fontana Di Amore."
To see what I mean, just
.
If Bell didn't have to pretend to take the superstitions and rules about the magic fountain so seriously, I could have enjoyed her first real outing as a leading lady much more. When her sister (Alexis Dziena) relays more information about the fountain and what Beth must do to "break" the spell, there were audible groans in my theater (but props to the actors for keeping straight faces. That must have been tough.)
It's really a shame that the plot device is so dreadful, because Josh Duhamel and Bell are natural-born romantic comedy stars. Both gorgeous and adept at physical comedy, they make an ideal pair for a movie in this genre. The rest of the cast, especially Shepard as a self-loving male model, also elicits a surprising amount of humor (they do get some help from an awesome, unexpected cameo that I won't spoil here).
There are other problems that bring down the movie besides its ridiculous central storyline, particularly an unnecessary final sequence that should have ended up on the cutting room floor. However, if you're looking for a good time and can set aside your expectations for a realistic experience at the movies, you'll probably find yourself guffawing despite yourself — and waiting to see Bell and Duhamel in more worthwhile roles.