Movie Review of The Yellow Handkerchief
The Yellow Handkerchief: A Subtle Charmer
One advantage of the Twilight cast's overwhelming fame? That their smaller projects get the release and attention they normally wouldn't. This is the case for The Yellow Handkerchief, an independent drama starring Kristen Stewart, William Hurt, Maria Bello, and Eddie Redmayne.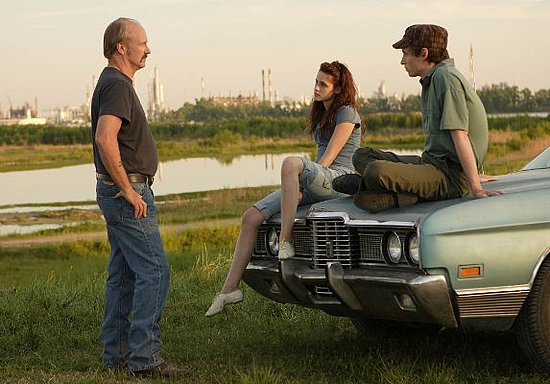 Stewart has a big part as Martine, an insecure teen who impulsively takes off on the road with a stranger named Gordy (Eddie Redmayne), but the movie belongs to Hurt. He plays Brett, a recently released ex-con tortured by his past. Brett hitches a ride with Martine and Gordy toward Louisiana, and through a series of misadventures, the three of them become unlikely friends, unfurling Brett's history in the process. It's Hurt's acting and his character's story that make The Yellow Handkerchief a compelling character study while saving it from being a meandering mess. To hear why, just
.
Stewart is at home as a beautiful outcast but she's out-acted at every turn by her costars. It's not that she's not working hard; it's just tough to dominate Hurt, who's such a quietly phenomenal actor. Redmayne is also impressive as Gordy, who's so socially awkward that he initially turns off his traveling companions. He manages to remain sympathetic to the audience, as does Brett, even when we don't know why he was imprisoned. Both men pull off characters who seem dangerous at first but slowly win you, and their onscreen conquests, over.
The film's other powerhouse is Bello, as Brett's ex May. Her relationship with Brett emerges first in Brett's flashbacks, until Martine and Gordy become interested enough in Brett to have him recount the rest of the narrative. Incidentally, that becomes a frustrating storytelling device, since the Brett/May plot is the best part of the movie. You realize you wanted to be watching their affair all along, and the time spent with Martine and Gordy feels wasted. Though those two eventually form a sweet bond, the movie tries to force a parallel between the younger couple's relationship and Brett and May's, which doesn't work. The older couple's story is so much more powerful and real.
Like I said, it's ultimately Hurt who keeps the movie from being just an eventful road trip. By the time the movie wraps itself up, you're so satisfied with the resolution that you forgive any missteps.