It's graduation season! While all this cap-and-gown talk makes me remember our own graduations, it also brings up vivid memories of the commencements we wish we were a part of from our favorite movies and TV shows. Then there are those groups we'd just want to hang with (I'm looking at you, Brat Pack) before its members head off to find jobs or go to college. Check out all the most memorable graduations from the big and small screens!
St. Elmo's Fire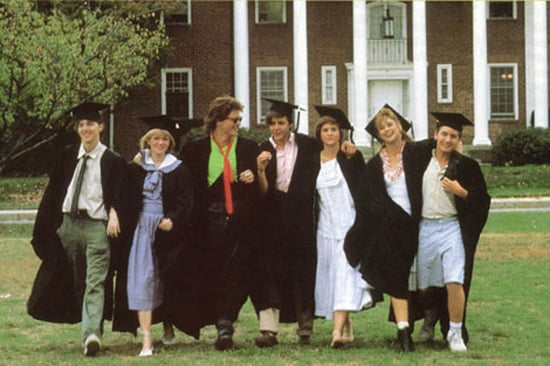 I just want to get in on this graduation scene so I can hang out with Rob Lowe [1], Judd Nelson, and Emilio Estevez. (Mainly so I can ask Emilio what's up with the shorts.) Despite how happy they all look, the group's postgrad life is plagued by drug abuse, adultery, and Andie MacDowell-stalking.
Reality Bites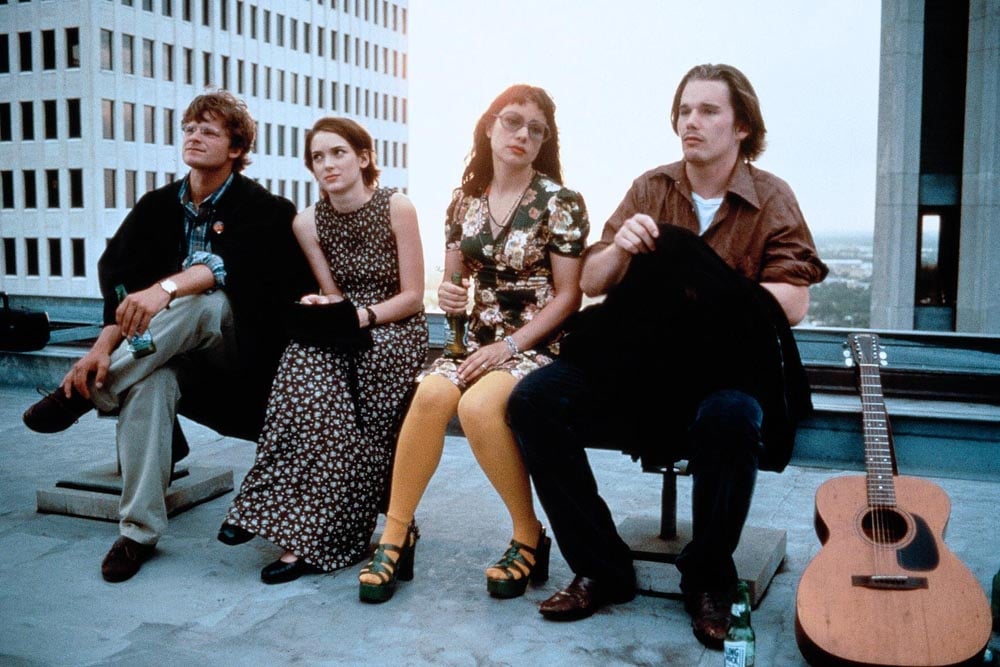 Before officially entering adulthood, Lelaina (Winona Ryder [2]) gives a somewhat anticlimactic speech at her graduation. How are she and her cohorts going to repair all the damage they inherited? According to Lelaina, "The answer is simple . . . I don't know."
Beverly Hills, 90210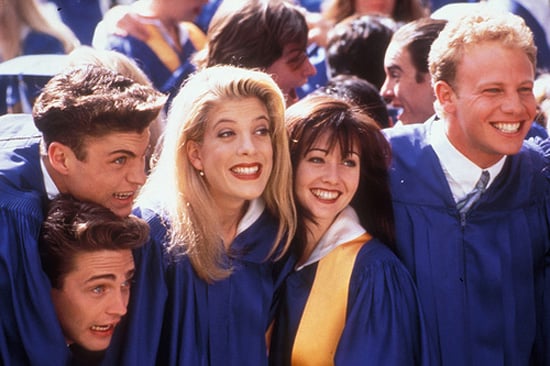 Andrea is the valedictorian, Steve organizes the senior breakfast complete with a video compilation of him and his BFFs (did anyone else even go to West Beverly High?), but the big story, of course, is that Donna Martin graduates.
Buffy the Vampire Slayer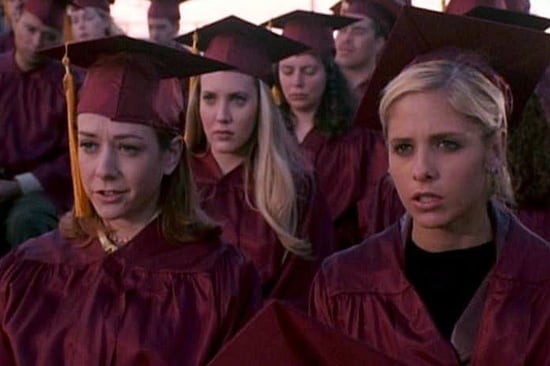 The Buffy gang has a lot more than romantic entanglements to worry about on their graduation day. They have to prevent the mayor from transforming into a snake demon and "ascending" by attacking him with flame throwers. Eventually, Giles hits the detonator and blows up the mayor, destroying Sunnydale High School in the process. Now that's what we call making an exit!
Boy Meets World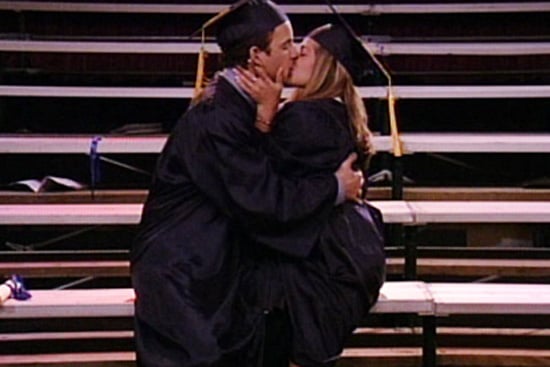 After denying their attraction, then dating and realizing they love one another, Cory (Ben Savage) and Topanga (Danielle Fishel) finally get engaged on their graduation day. I don't really remember the ceremony, but I do love the moment when Topanga proposes to Cory on the school bleachers. (Still glad they didn't go through with the elopement.)
Ghost World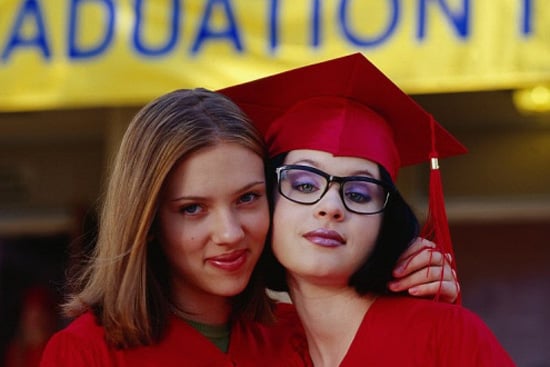 I'm not jealous of the Summer that Enid (Thora Birch) and Rebecca (Scarlett Johansson [3]) have, in which their best friendship falls apart and Enid replaces Rebecca with a depressed middle-aged man (Steve Buscemi), but their graduation at the beginning of Ghost World reminds me of that idealistic self-assurance that your high school friendships will outlast anything.
Source: United Artists [4]
Dawson's Creek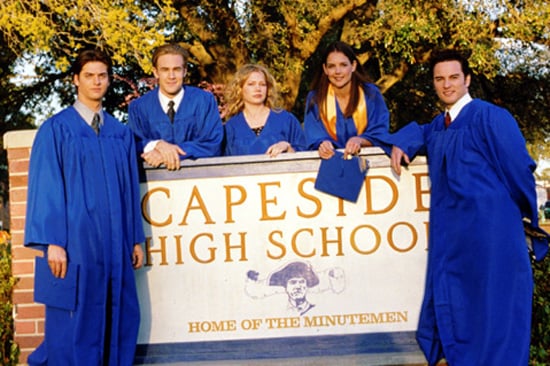 After four years in a love rectangle, the Creek crew are all about getting out of Capeside High School. Joey (Katie Holmes [5]) is the commencement speaker, Drue (Mark Matkevich) and Jen (Michelle Williams [6]) conspire to set off the sprinkler system during the ceremony, and poor Pacey is nowhere in sight after failing to obtain his diploma. Ah, the good times.
Smallville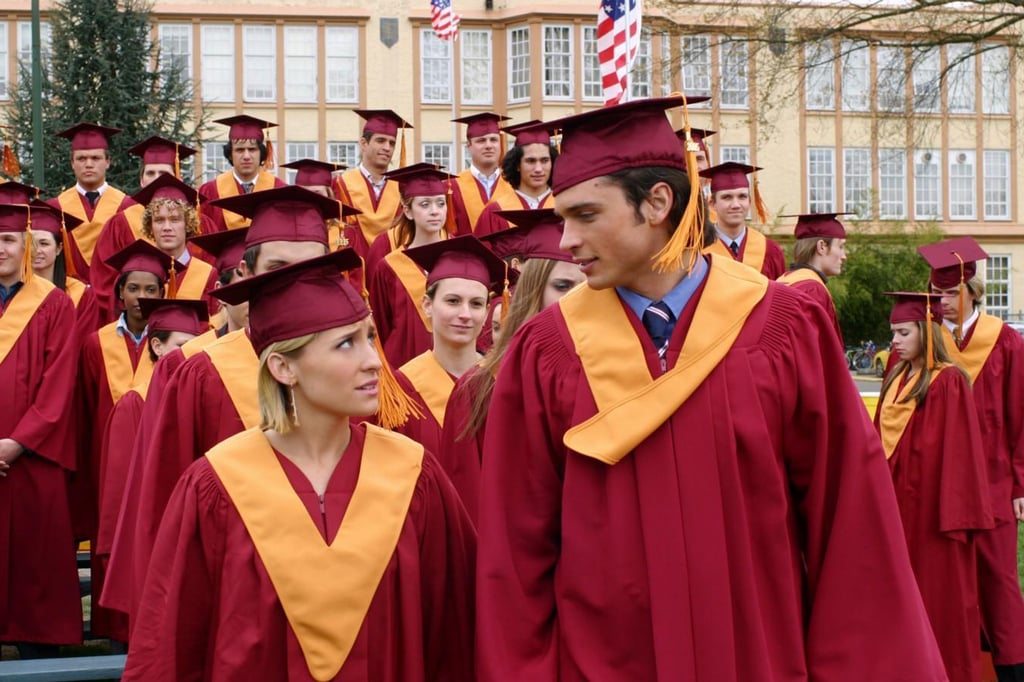 The Smallville High Class of 2005 graduation is one for the books, what with the military interrupting to alert the town that a dangerous meteor shower is imminent and all. Clark goes all Superman and has to save the town from certain destruction, yet again.
Slackers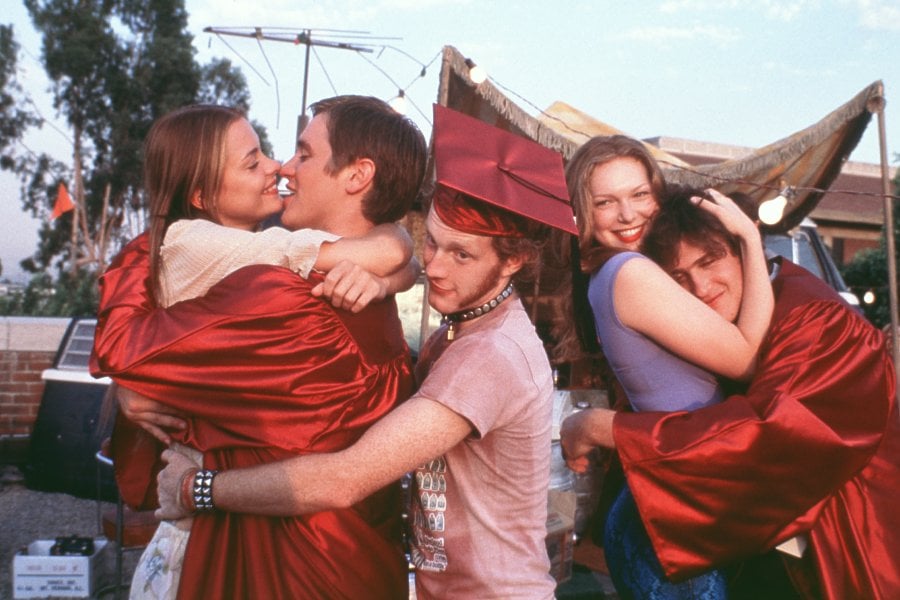 Oh how I wanted to hang out with Devon Sawa, Jason Segel [7], and the older Pete from Pete & Pete at Holden University! Despite creepy Ethan's attempts to blackmail master scammers Dave (Sawa), Sam (Segel), and Jeff (Michael Maronna), the lovable cheaters graduate, and Dave gets the girl (Jaime King).
Source: Alliance Atlantis [8]
Gilmore Girls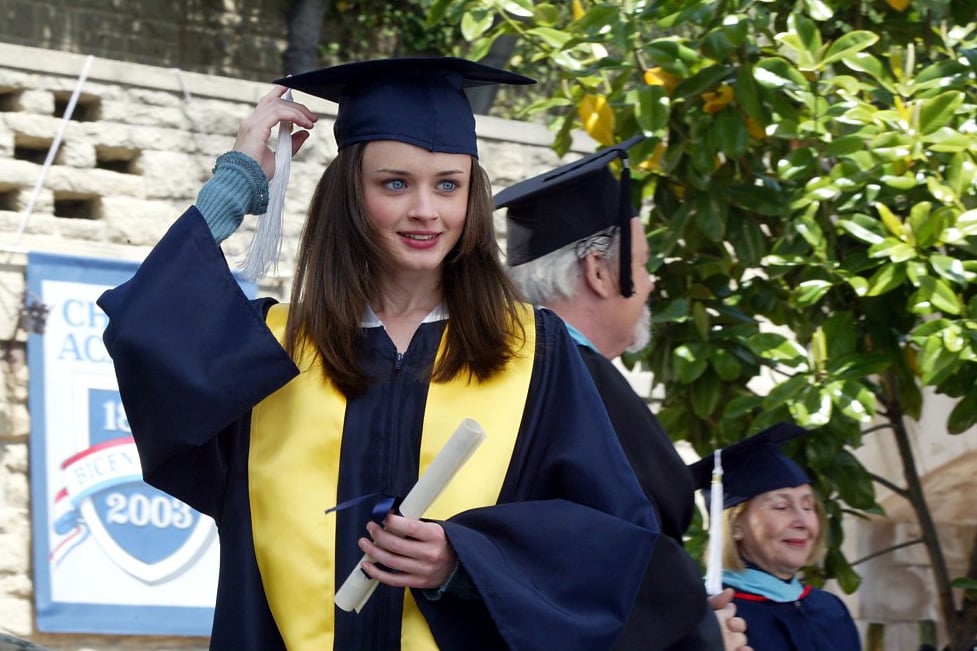 Of course, after years of being a model student at Chilton, Rory is the valedictorian and makes a tear-inducing speech dedicated to her best friend: her mom, Lorelai.
I Love You, Beth Cooper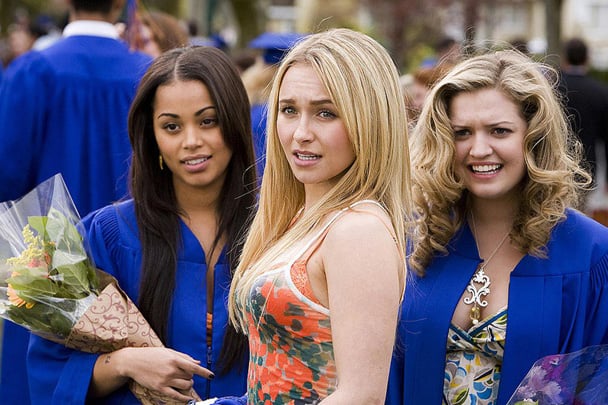 What I wouldn't give to bear witness to the fictional graduation at Buffalo Glenn High School. In his valedictorian speech, Denis (Paul Rust) not only confesses his love for popular girl Beth Cooper (Hayden Panettiere [9]), he also insults her boyfriend and urges his best friend to come out of the closet.
90210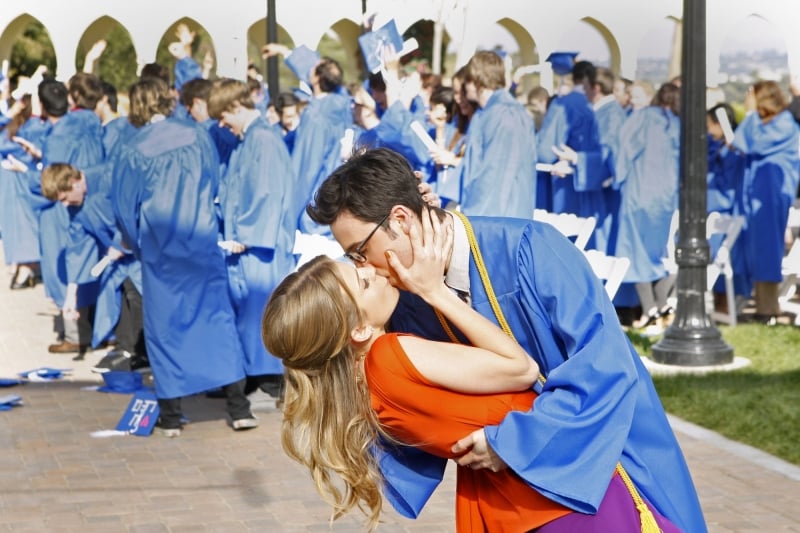 Years after the original 90210 crowd graduates from West Bev, the drama continues with the Class of 2011. Valedictorian Max decides he can't let Naomi take the fall for a plagiarism scandal and instead chooses to confess to his guilt during the ceremony. They seal it with a sweet kiss right in front of their fellow seniors.
She's All That
A bet's a bet, right? After failing to make Laney Boggs prom queen, Zack (Freddie Prinze Jr.) has to show up to their high school graduation in his birthday suit. That's a commencement I would have shown up for.
Source: Miramax [10]
One Tree Hill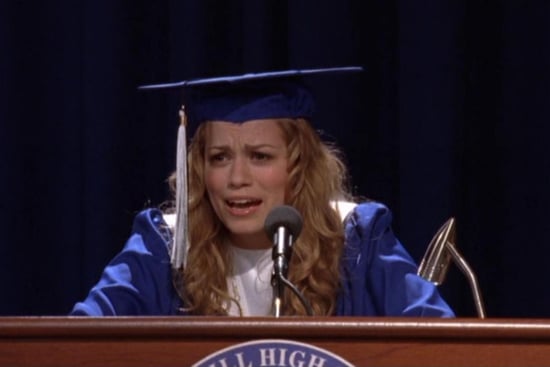 If you're wondering what that look on Haley's (Bethany Joy Lenz) face is, its the realization that she's going into labor . . . during her commencement speech. Best. Graduation. Ever.
Gossip Girl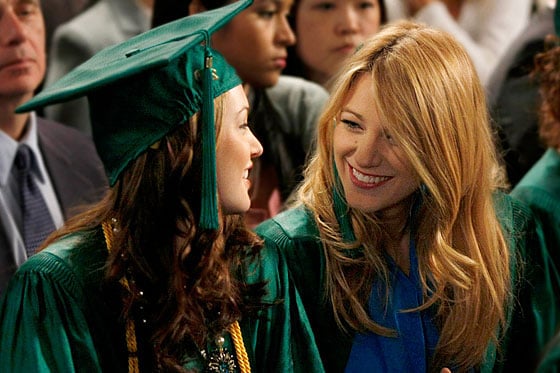 The Gossip Girl graduation [11] turns into a total OMG moment when Gossip Girl herself interrupts the ceremony by texting everyone her own congratulatory message in the form of cruel labels for everyone. Nate (Chace Crawford [12]) is the "Class Whore," while Blair (Leighton Meester [13]) is "Weak," and Serena (Blake Lively [14])? "Officially Irrelevant." Burn.
High School Musical 3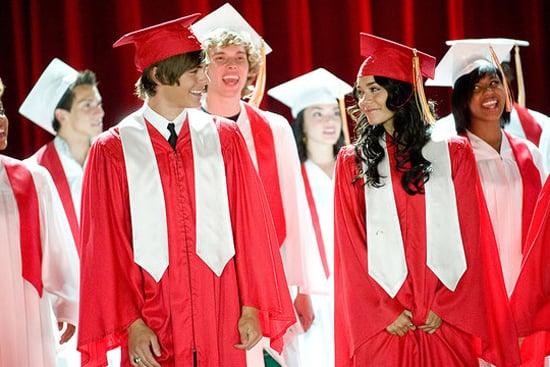 Before there was Glee, there was High School Musical. By the end of the third movie, the East High students are color-coordinated in a sweet EH pattern and Troy (Zac Efron [15]) closes out the class's high school years with an emotional "Once a Wildcat, always a Wildcat." Then the kids form an even more impressive wildcat shape. For the record, my high school class was not that coordinated.
Into the Wild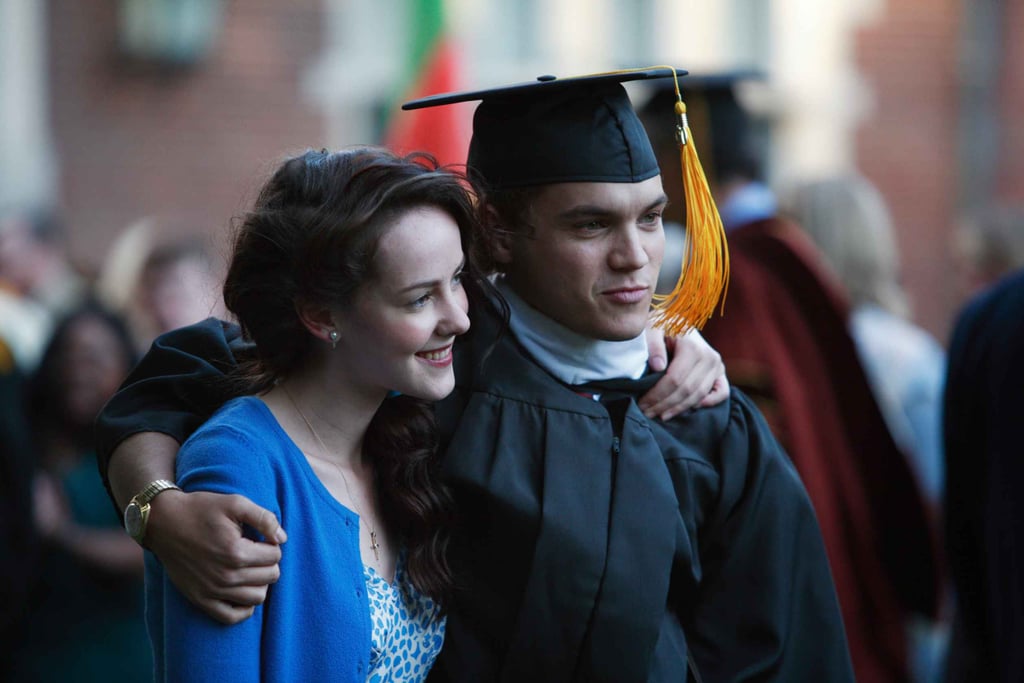 Christopher McCandless's (Emile Hirsch [16]) college graduation is a lot more bittersweet than most. For one, it's one of the last times he shares with his family before embarking on a soul-searching trek across Alaska that ultimately ends with (spoiler alert) his death.
Degrassi Takes Manhattan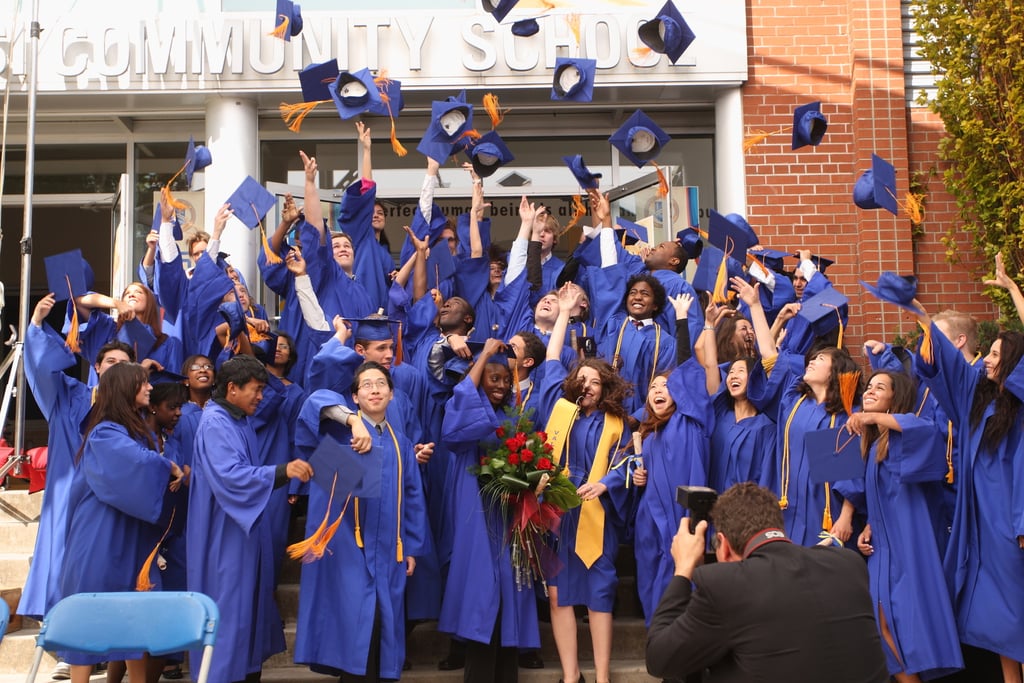 Degrassi High School churns out so many students that every year is a big graduation occasion. This graduation in particular, from the movie version of the Canadian show, only serves as a kickoff for the big afterparty at the Coyne twins' mansion, in which Spinner breaks up with Jane after finding out she had an affair with Declan. It is dramatic, to say the least.
Source: Epitome Pictures [17]
Post Grad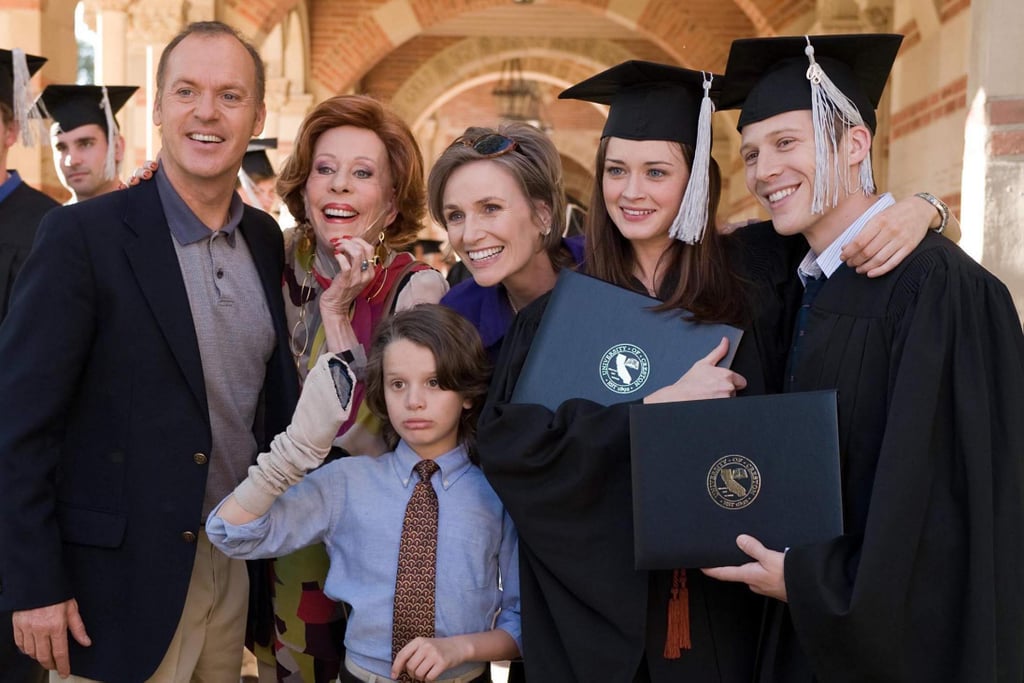 Smile Ryden (Alexis Bledel), this is the happiest you'll be for quite a while! After years of putting her nose to the grindstone, she finally graduates and discovers that after the diploma, there's a lot more work to be done.
The Secret Life of the American Teenager
Nothing like a teen engagement to get a graduation commencement started! In Secret Life's grad ceremony, Ricky (Daren Kagasoff) gives a borderline-TMI speech about his life, detailing how his dad is a horrible person, and how sad he was that preschool was only five hours long, before proposing to his baby mama, Amy (Shailene Woodley).
The Twilight Saga: Eclipse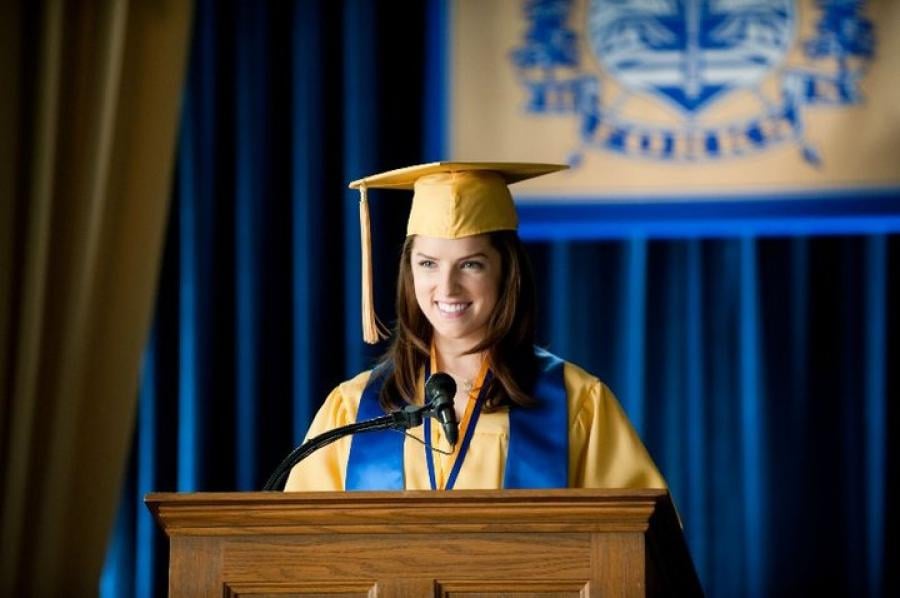 Jessica (Anna Kendrick [18]) gives a rousing speech at the gang's high school graduation. I wonder how her pep talk about making mistakes in the future ranks among the many, many commencement speeches Edward has heard over the years.
Veronica Mars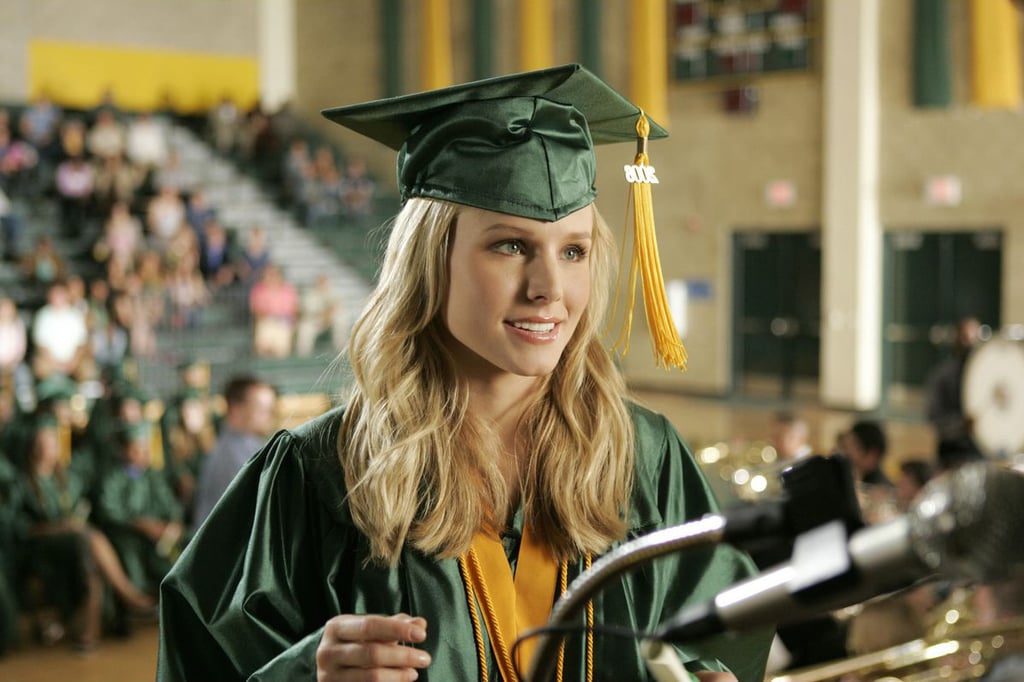 Veronica (Kristen Bell [19]) is knee-deep in a case involving the mayor, but she finds time to get her diploma. Unfortunately, Weevil isn't afforded the same opportunity. Sheriff Lamb and the Neptune police come in midceremony to arrest him for murder! Lamb doesn't even let him walk the stage so his grandma could see him graduate. Cold, bro.
The Wackness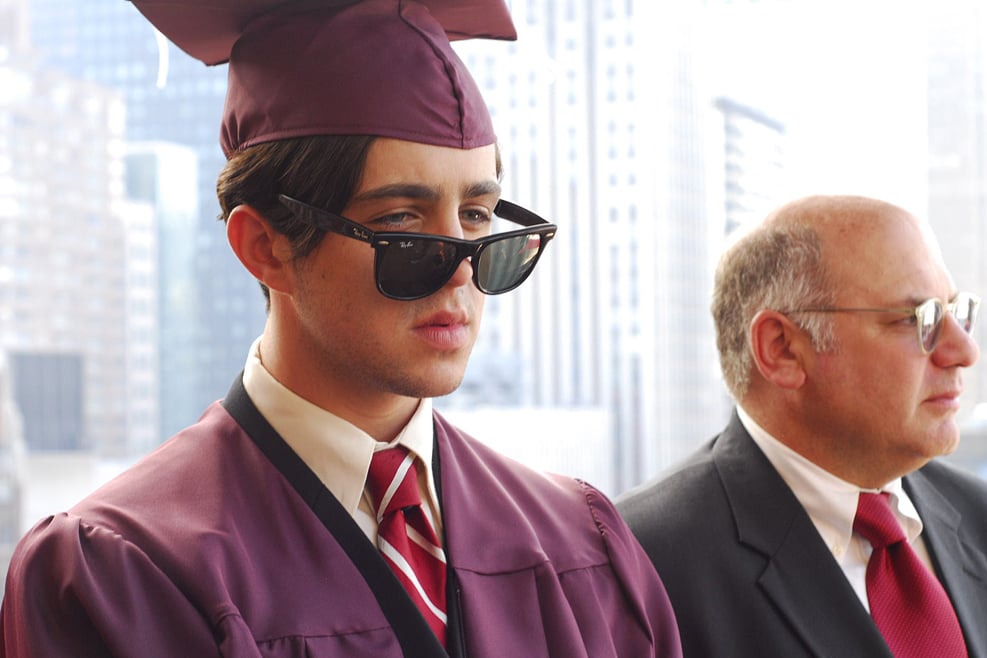 Let's just say that teenage drug dealer Luke (Josh Peck) isn't wearing those sunglasses to look cool. The senior doesn't have so many friends (aside from customers) by the time he graduates from his Manhattan private school, so he's psyched when his crush, Stephanie, invites him to a graduation bash . . . even if it's just to provide some herbal refreshments.
Cougar Town
Travis's (Dan Byrd) graduation is great, but not as great as the giant inflatable gorilla with his face taped on it that the cul-de-sac crew gets him as a congratulatory gift.
The Sisterhood of the Traveling Pants 2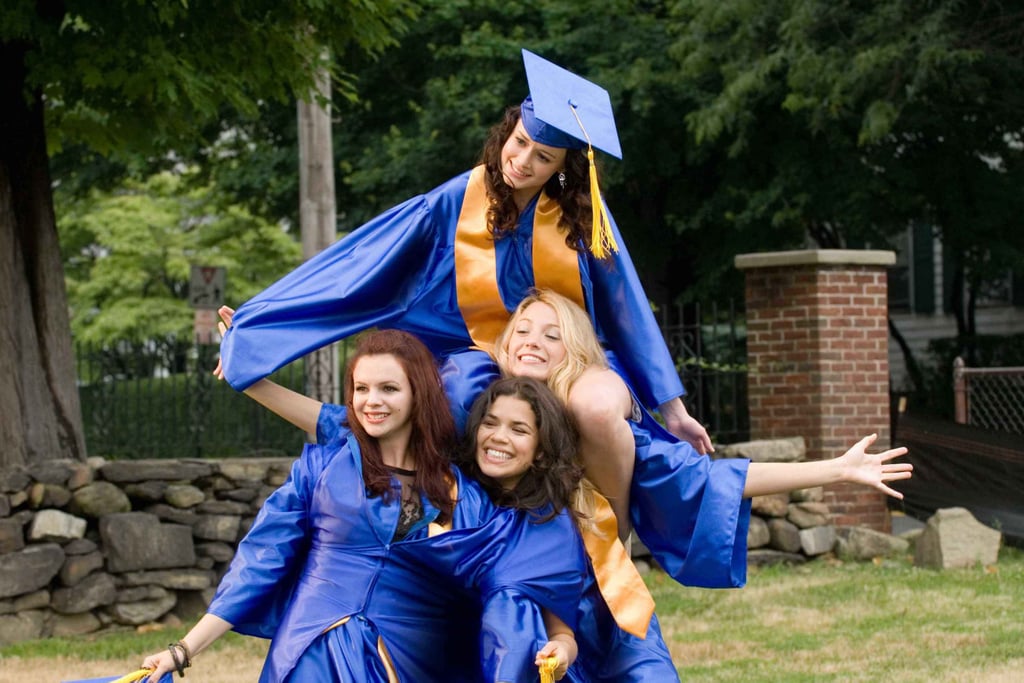 Tibby (Amber Tamblyn), Lena (Alexis Bledel), Carmen (America Ferrera [20]), and Bridget (Blake Lively [21]) go through the emotional ringer in The Sisterhood of the Traveling Pants, but they still manage to graduate in time for the sequel.
Glee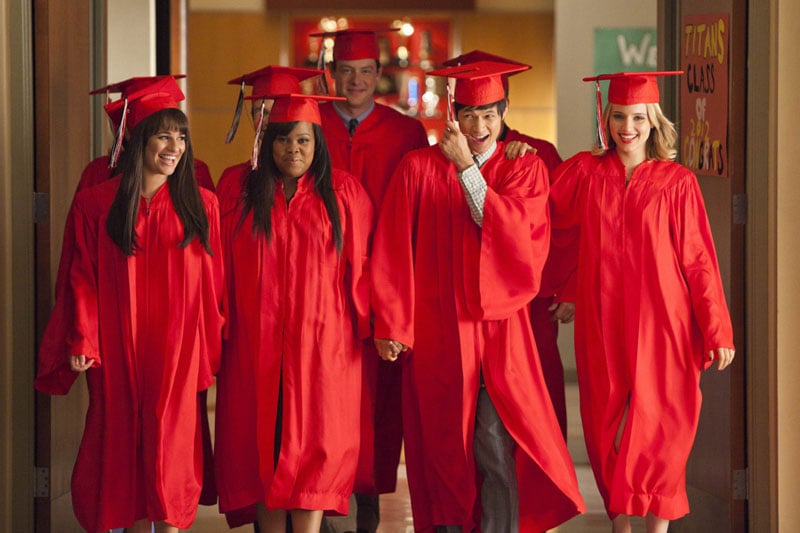 After three years singing, dancing, and dating each other, commencement is an emotional day for the kids of William McKinley High. Instead of a traditional, boring ceremony, they throw a dance party and groove to Bruce Springsteen's "Glory Days." Just like my high school graduation! Only with more Springsteen.
The Vampire Diaries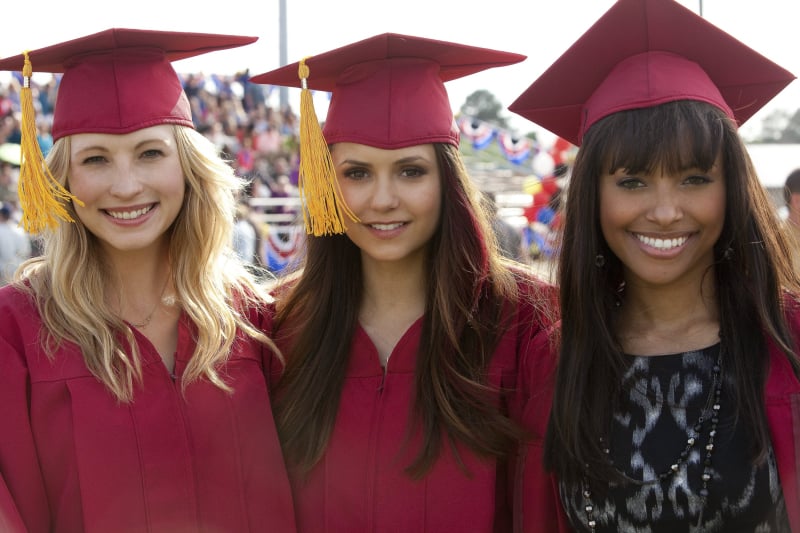 OK, so it's not exactly ideal that the Mystic Falls High School graduation is infiltrated by supernaturals that are back from the dead, but the ceremony does ultimately go off without a hitch. It's pretty cute seeing Caroline, Elena, and Bonnie making college plans — since when do vampires want to live in a triple dorm room?
The O.C.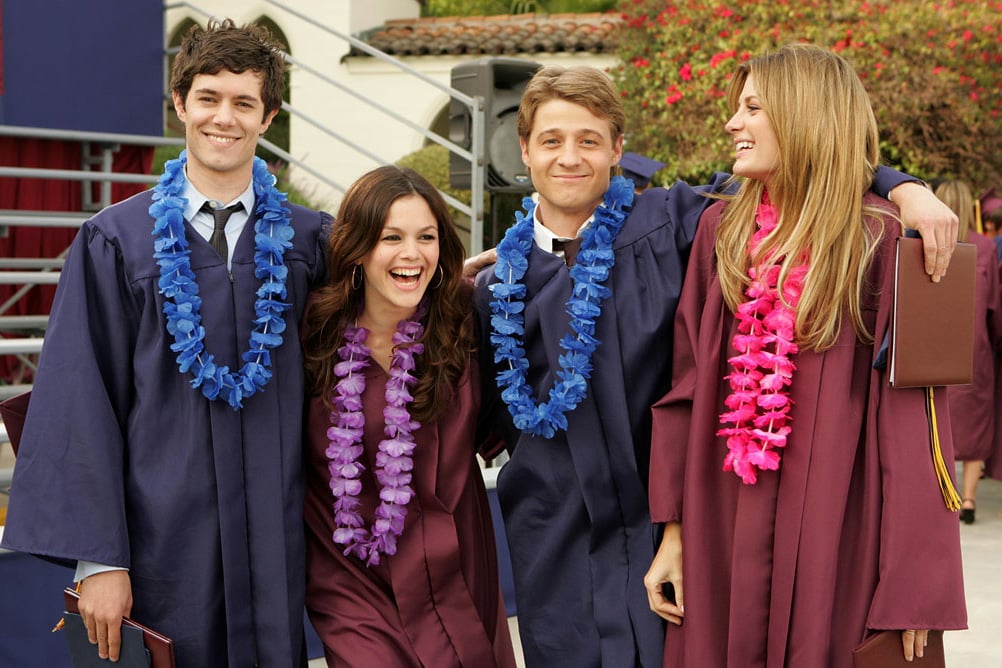 And finally, Seth (Adam Brody [22]), Summer (Rachel Bilson [23]), Ryan (Ben McKenzie), and Marissa (Mischa Barton [24]) will always be the best (and most troubled) friends I never had. As if they're not cool enough, they even get to wear Hawaiian leis at their commencement. No one could have anticipated that in mere hours, in a tragic twist of fate, Marissa would be dead.
Glee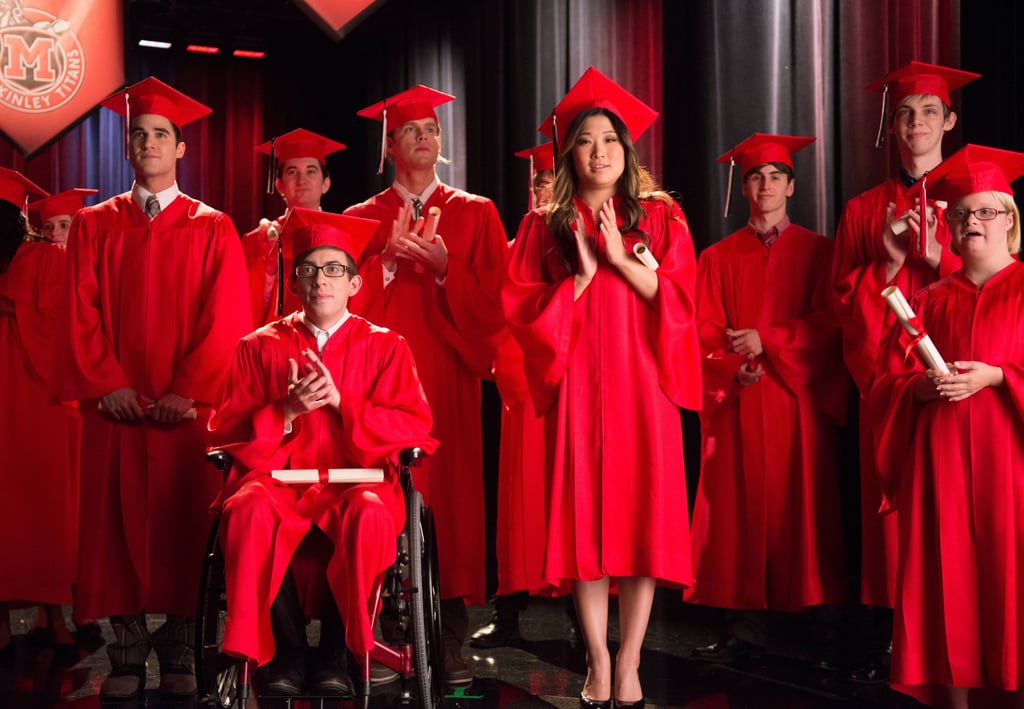 A year after their older counterparts, another class of glee clubbers accept their diplomas. How adorable is Blake in his cap and gown? Savor this picture, because it might be the last we see of McKinley High for a while . . .