Music Video For Hot Chip's I Feel Better
Buzz-Worthy Video: Hot Chip's "I Feel Better"
File this under weird but kind of awesome: electro-pop group Hot Chip just released its music video for "I Feel Better," featuring a fictional boy band ('90s flashbacks, anyone?). In the scene, the pretty boys are dancing on stage for screaming fangirls when — plot twist! — an alien figure (or is it God?) enters the room and strikes at the performers with giant lasers that shoot from his mouth. Say what?!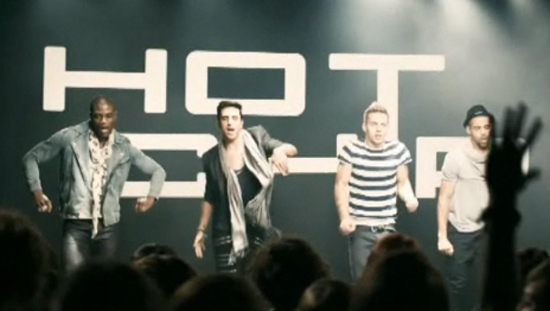 OK, so it isn't the easiest clip to explain, but you can bet people are going to be talking about this one. It's directed by a British male comedian (Peter Serafinowicz), which probably helps explain its odd flavor. As for Hot Chip themselves, watch for a quick cameo as they pop up in the audience — it comes somewhere after a menacing floating head starts shooting with its eyeballs. I'm serious. See for yourself when you
.