Music Video For R. Kelly's Official World Cup Song "Sign of a Victory"
Raise Your Hands For R. Kelly's World Cup Music Video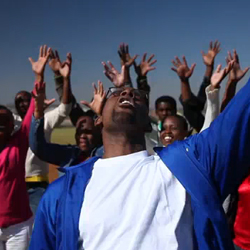 Not to be outdone by Weezer, R. Kelly has released his World Cup tribute, "Sign of a Victory." Put aside your personal R. Kelly feelings for a moment, because there's no denying the man can do inspirational — need I remind you of "I Believe I Can Fly"? Here, he gives the usual hopeful lyrics in a video that shows the singer traveling to South Africa. It feels like a homemade travel diary, even if it is a little self-indulgent (we get it, you're famous). Still, I'm a sucker for a gospel choir — goosebumps! Watch when you read more.