That's My Boy Movie Review
That's My Boy: That's Your Bad
There was a time when seeing an Adam Sandler movie didn't necessarily mean watching overly obnoxious characters in a weak narrative strung together by inane plot twists. Unfortunately, That's My Boy perpetuates the "ugh" response that Sandler's films have been getting as of late. The year is 1984; after a romance with sexy teacher Ms. McGarrigle (Eva Amurri Martino), 13-year-old Donny (Sandler) ends up in the national spotlight, lauded for "living the dream" and pasted on magazine covers. Too bad he's also stuck with a baby as a product of the affair. Fast forward to present day, when now-deadbeat Donny shows up days before his estranged son Todd's (Samberg) wedding, hoping his kid will be the key to fixing his financial woes. Clearly mortified by his father's disheveled appearance and general lack of social graces, Todd tries to pass off Donny as an old friend, but Donny uses his inexplicable charms to worm his way into spending the weekend with the group.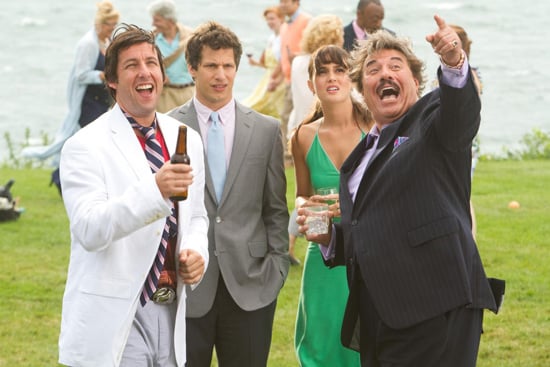 The silly plot is just one of the many issues plaguing That's My Boy. Between the bodily-fluid gags, which are painful for both the characters and the audience, and Sandler's grating Boston accent, the movie only works if you're willing to accept the stupidity because it's an Adam Sandler movie. To find out what else I thought of That's My Boy, just keep reading.
Throughout the weekend, Donny and Todd go through an unplanned crash course in father-son bonding: there's the (inappropriate) sex talk, lessons on how to win a fight (by ambushing your opponent with a beer bottle to the head), and how to (drunkenly) ride a bike. Sandler and Samberg are two forces of comedy, and while each can be great independently, Samberg's subtle humor is overshadowed by Sandler's penchant for broad, bombastic schtick.
Whether the jokes have gotten stale or his audience has simply grown up, it seems That's My Boy doesn't contain any of the charm of Sandler's early movies. Instead, it's entirely too reliant on gross-out humor that pushes the boundaries of inappropriateness. It's almost as though the filmmakers accumulated a roster of "wouldn't it be funny if . . . " moments and skewered them all together, hoping it would fall into place cohesively. Sadly for the cast and the audience, they were wrong.
Photos courtesy of Columbia Pictures