NBC Chairman Jeff Gaspin Confirms That The Jay Leno Show Will Move to 11:35 pm, Conan O'Brien and Jimmy Fallon to Be Pushed Back
NBC Confirms Late Night Shakeup: Hoping to Give Leno, O'Brien, Fallon New Time Slots
In what was easily the most anticipated panel of this year's Winter TCA, NBC Chairman Jeff Gaspin confirmed this morning that The Jay Leno Show will no longer air at 10 p.m. starting on Feb. 12. NBC has presented a new late night deal to Jay Leno, Conan O'Brien, and Jimmy Fallon that would reshuffle their respective late-night shows. Gaspin wouldn't say which of the hosts are definitely on board, but if all goes according to plan, The Jay Leno Show will move to 11:35, pushing The Tonight Show with Conan O'Brien to 12:05 and Late Night With Jimmy Fallon to 1:05. Here are more details: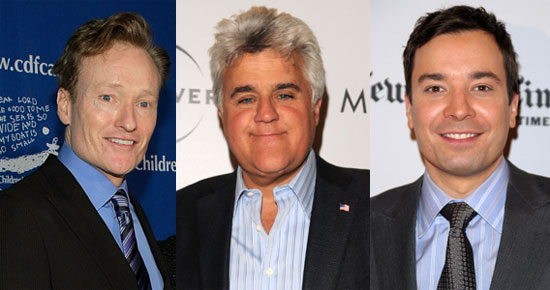 The decision to move The Jay Leno Show was made to appease NBC's affiliates, who were unhappy with the show's impact. As for why audiences weren't tuning to watch Leno, Gaspin said: "I don't think that people didn't watch The Jay Leno Show because of the show's quality. I think there were so many other choices [at 10 o'clock] that people thought were better. There's just so much intense competition at 10 o'clock, that something that's easy to watch and easily joinable is not people's first or second choice at 10 o'clock.
Leno, O'Brien, and Fallon have the weekend to give some thought to the new plan, and talks will resume tomorrow. As for their reactions, Gaspin said, "Both Jay and Conan and Jimmy were incredibly gracious and professional. They all said they understood the difficult situation that I was in."
It has yet to be determined what will fill the empty spot at 10 p.m. Gaspin said he's waiting until the last possible second to figure out the programming, but there is the possibility that Rex Is Not Your Lawyer will be ready for the Spring.
Along with JJ Abrams's Undercovers, NBC has already picked up new specs, including government conspiracy thriller The Event, a new law show from David Kelley called Kindred, hour-long romantic comedy Love Bites, and a remake of the '70s series Rockford Files.
Carson Daly will continue to stay on the NBC network regardless of the ultimate outcome with the late-night lineup.
Stay tuned for lots more updates!