NBC Comedy Outsourced TCA Panel Quotes and Photos
Outsourced Brings Its Laughs and Culture Clash to the TCA
NBC's Summer TCA lightened up a bit today with the network's new India-set comedy Outsourced. I had my reservations about the show, which revolves around an outsourced American sent to manage a call center in India, but after listening to the cast and TV and movie vet Ken Kwapis, I can assure you that my fears were assuaged a bit.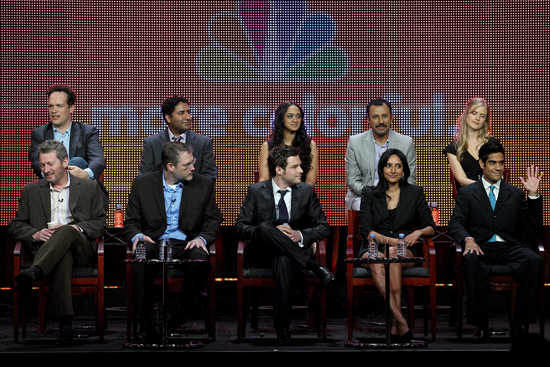 Right off the bat, the showrunners were essentially asked to defend the new series and say whether it's relying on stereotypes. Exec producer and writer Robert Borden insists that it's more about culture clashes, and said that "there's a way to deal with cultural confusion" that's not offensive (he also added that a third of the show's writing staff is Indian). The characters, he said, are all relatable, like Parvesh Cheena's character, who is "modeled after that guy who will not stop talking to you" at work. Those kind of work archetypes, he said, are "neither American nor Indian."
On what will distinguish the show from other workplace comedies (aside from its overseas setting), Borden noted that usually, the characters don't like the job they're in, but in Outsourced, they do. Apparently a call center job in India is a desirable one to have; Borden said, "these characters are strivers; they want to succeed," which he says makes the tone upbeat and optimistic.
To hear more about Outsourced, just read more.
The group of Indian actors, which includes Cheena, Sacha Dhawan, Rizwan Manji, Rebecca Hazlewood, Rizwan Manji, and Anisha Nagarajan, expressed happiness with their cast, with Nagarajan saying that her family was "excited to see such a large Indian contingent in television." Cheena, who is friends with Community's Danny Pudi, joked that "usually, we're the only one."
Ken Kwapis, who has directed He's Just Not That Into You and episodes of The Office, said that it was he who brought the idea for the show to NBC after seeing the 2006 movie (which he calls a "wonderful film"). Kwapis got the OK from the filmmakers himself and was off. He said that in the series, people will be "seeing sides of Indian that you maybe haven't seen in the recent pop culture," which I can only think to mean the slums of Slumdog Millionaire.
Diedrich Bader, whom you'd know from The Drew Carey Show and Office Space, describes his Midwestern transplant character as "the guy who says what everybody is thinking. . . He would be that guy going to McDonald's, saying I want what I want." Sounds like we'll definitely be getting a lot of American stereotypes in there too.