NBC Picks Up Pilot "Justice" From Conan O'Brien's Production Company Conaco
NBC and Conan O'Brien: Together Again Already?!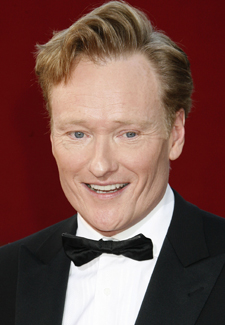 So much for any bad blood between Conan O'Brien and NBC. Despite all that the network put him through — and O'Brien's own counterattacks over the past few weeks — it seems that any animosity has gone by the wayside. Not even a week after O'Brien signed the deal to end his run on the Tonight Show, NBC is picking up a pilot from his production company, Conaco. Titled "Justice," the series follows an ex-Supreme Court judge who quits to join his own legal practice. O'Brien would serve as an executive producer.
A legal show doesn't seem like typical Conan O'Brien material (just imagine Triumph the Insult Comic Dog as a key witness!), so I'm curious to catch the show if and when it does air. Perhaps this is the network's more roundabout way of apologizing, but I guess O'Brien's moved on and forgiven them — even if I haven't just yet.