NBC Thursday Night Comedy Block Review of The Office, Parks and Recreation, 30 Rock, Community, and More
Buzz In: Which of NBC's Thursday Night Comedies Was Funniest This Week?
NBC's Thursday night comedy block had a solid batch of all-new episodes this week, with many of them celebrating Valentine's Day with a side of hilarity. I watched them all — Community, Parks and Recreation, 30 Rock, The Office, Outsourced, and Perfect Couples, and like last week, I want you to weigh in on which comedy you thought was the best this week.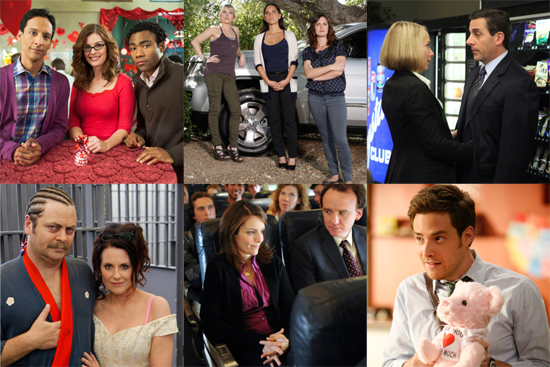 Troy and Abed fight over a girl on Community, Ron and Tammy tear up Pawnee with their tainted love on Parks and Recreation, and The Office dwellers deal with Holly and Michael's rampant PDA. In an Outsourced's overseas office, Todd brings in the hearts-and-candy holiday, while the Perfect Couples folks deal with jealousy. And on 30 Rock, things start off promising for Liz's weekend getaway with Carol, but their relationship doesn't exactly take flight. But I want to hear your assessment: which of the NBC shows was funniest?
Photos courtesy of NBC