NBC Thursday Night Comedy Block Review of Parks and Recreation, 30 Rock, Community, and More
Which NBC Comedy Owned Thursday Night This Week?
With the exception of The Office, the NBC Thursday night comedy block came back after a couple of weeks of repeats with all new episodes (and good renewal news!), which means that my Friday morning poll is back, too. This week, Britta came between Troy and Abed's friendship with a new guy on Community, competition among friends was explored in Perfect Couples, and over on Parks and Recreation we finally got to witness the fruits of all of Leslie's labor at the Harvest Festival. 30 Rock went with a reality-show-themed episode, while an Indian holiday made for a paint war on Outsourced.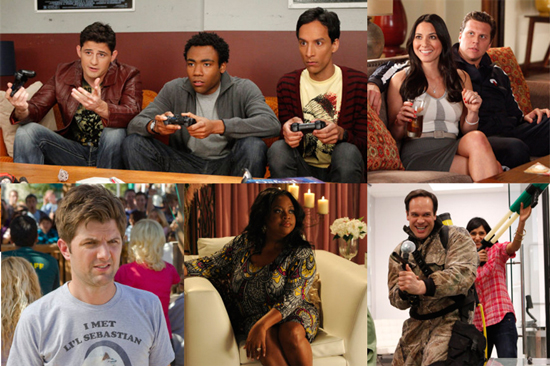 I found myself laughing out loud at the hijinks of the Harvest Festival, so Parks and Recreation gets my vote for being the funniest this week. But if you tuned in, speak up: which of NBC's Thursday night comedies did you think was the best?
Photos courtesy of NBC