NBC Thursday Night Comedy Review of The Office, Parks and Recreation, 30 Rock, Community, and More
Which NBC Comedy Owned Thursday Night This Week?
NBC brought a full night of all-new episodes this week with its Thursday night lineup, and while it was comedy as usual, there were also some momentous events. Community took on Pulp Fiction in its much-anticipated tribute ep as they celebrated Abed's birthday, and the folks of Perfect Couples went on their respective bachelor/bachelorette trips (though it was bittersweet knowing that the series isn't coming back next season).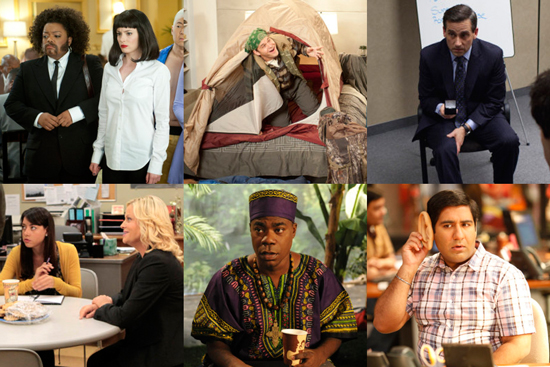 Leslie and the gang went on an ill-fated camping trip to breed ideas on Parks and Recreation, but perhaps the sweetest — and biggest deal — happened on The Office as the Dunder Mifflinites helped Michael propose to Holly . . . and learned they were going to say goodbye to their boss. The denizens of 30 Rock panicked as TGS went on a forced hiatus in Tracy's absence, and Todd encounters workplace drama on Outsourced. I have to say, though it was an all-around great night on NBC, The Office is my pick this time around, given that Michael and Holly's storyline was so sweet. Your turn — if you tuned in to the peacock network Thursday night, it's time to vote for which of the shows you thought was funniest!