NBC Undercovers Panel at Summer TCA features Boris Kodjoe and Gugu Mbatha-Raw
Undercovers Reveals Itself at the Summer TCA
The Summer TCA is bringing us looks at tons of new Fall shows, and the next one — NBC's Undercovers — fits into several different genres. It's a sexy action/comedy/drama from J.J. Abrams and Josh Reims, who worked on Felicity together back in the day, and it stars the extremely attractive Boris Kodjoe and Gugu Mbatha-Raw as a married couple who take a break from domestic life to make a brief return to spy life. The leads and cast chatted about the new Fall series and gave us a look at we can expect.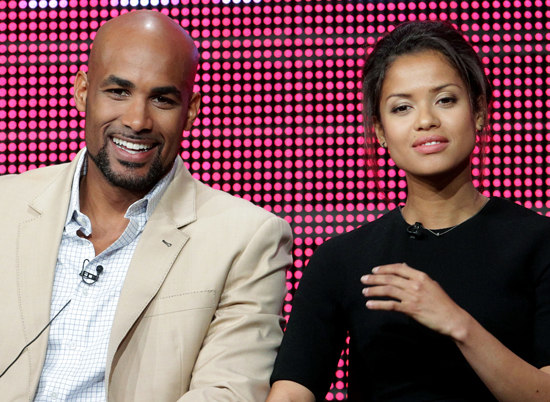 Reims said that Undercovers isn't just what would have happened if Alias's Sydney Bristow and Michael Vaughn had gotten married and lived happily ever after — a show, of course, his fellow showrunner Abrams (who wasn't present) created. He cracked, "Don't tell J.J., but I never really watched Alias." To drive the point home, Reims said "the goal of the show was to not be Alias."
Fun fact — stars Kodjoe and Mbatha-Raw are German and British, respectively, portraying American spies. In fact, Kodjoe didn't grow up speaking English, and he had an adorable anecdote: "My English was so bad that somebody would ask me 'what's up?' and I'd look up." Reims said that he and Abrams originally didn't want to hire foreign actors for the parts, saying, "We can't deal with people faking American accents," but they liked Kodjoe and Mbatha-Raw so much they overlooked it. For the record: they have perfect American accents.
To hear more about the stars of Undercovers, just
.
The subject that kept coming up was the fact that two black actors are the leads, but Reims basically insisted it was a non-issue. "We started out by saying, let's see every possible incarnation of a person," adding that when Boris and Gugu came in, they knew immediately that they were perfect for the roles. Reims said they were looking for "two actors that are great enough, " joking, "we found one of them in Gugu. And then we hired Boris."
For the Parks and Recreation fans: costar Ben Schwartz plays a spy-in-training on Undercovers, but he's also known as Tom Haverford's skeezy friend Jean-Ralphio. Will he return to that show if he's busy with his new one? He said he'd love to be on both shows if Parks and Rec invites him back (which I hope it does).
Kodjoe was so appreciate of his lead role, calling the opportunity to go from action to drama to comedy "an absolute dream come true for an actor. . . yesterday I was shooting in a strip club speaking three different languages; the next scene you're fighting two secret agents."