Napoleon Dynamite Animated Series Interview at TCA
The Napoleon Dynamite Cast Talks About Making The Animated Series "Snappier" Than the Movie
Fox is bringing us back to the world of 2004 film Napoleon Dynamite, though the new series is animated. All of the main actors from the movie, like Jon Heder and Diedrich Bader, will be voicing their original characters, and creators Jerusha and Jared Hess are also on board as producers. There have been some tweaks made to the original Napoleon crew to go cartoon, and when the stars and showrunners hit the TCA stage, they talked about those changes and what we can expect from the show.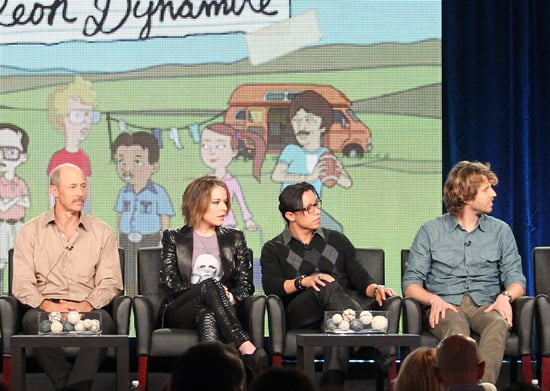 Creators Jared and Jerusha Hess thought that making an animated series out of Napoleon Dynamite was a logical choice because the film felt like a cartoon already. But now, star Heder said, "We can do anything, we can introduce new characters." Hess noted that one big difference is the pacing; where the film had a very slow pace, the animated series "is snappier, jam-packed with jokes. It's just faster." Added executive producer Mike Scully: "It's very Simpsons-like in terms of the pace."
The actors noted differences in their characters on the animated series. Jared Hess said that Napoleon has "more emotional range," and Tina Majorino says Deb is now much perkier. Movie Deb was "very monotone and still," but Majorino said she has gotten to evolve Deb a little and even loses her voice from being "so perky."
Bader, who noted that he often plays lots of cartoonish characters whether they're animated or not, said that now there is "more of an emphasis on the family and relationships." The producers also said that we would get to explore more of the community of Napoleon's home town of Preston, Idaho.
There's only one major character missing from the first few episodes: LaFonda, who marries Kip at the end of the film. This is so we can "explore Kip's online dating life," said Jared Hess, but LaFonda will eventually show up.
Scully spilled about some guest stars who will be lending their voices to the show, and they're some funny heavy-hitters like Amy Poehler, Jemaine Clement, Jennifer Coolidge, and Sam Rockwell.