Nashville TV Show Review
Pilot Scoop: Nashville
Musical TV series are all the rage right now, so it's no surprise that ABC is getting in on the action with new series Nashville. The drama stars TV veterans Connie Britton and Hayden Panettiere as a pair of singers that butt heads when their record label tries to bring them together, while also giving us a peek at what happens behind the scenes of the country music industry. Read up before the show premieres on Thursday.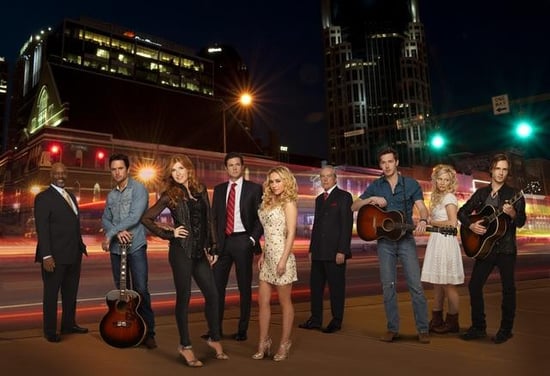 What it's about: Set in the country music capital, Nashville follows a handful of musicians (and their connections) as they struggle to make it (or just stay afloat) in the industry. Britton leads the pack as Rayna James, an aging superstar who's losing fans to younger, sexier singers like bratty Juliette Barnes (Panettiere). As Rayna struggles to keep her family and career intact, Juliette's wrestling with her own demons and family issues, and we learn that she's really just a kid beneath her sassy exterior.
Where it works: If you're a fan of American Horror Story or Friday Night Lights, you know what a joy it is to see Britton in action. She's a perfect fit for Rayna, whom you root for but never pity, even when her manager tries to force her to tour with Juliette to sell records. To that point, Panettiere is well cast as Rayna's biggest threat, and the tension between the two is fun to watch. The music is also woven in pretty seamlessly, which is a refreshing change from shows like Glee and Smash.
Where it doesn't: We're introduced to a lot of characters in the pilot (which isn't a bad thing), but a lot of the guys look the same, and as silly as it sounds, it made it difficult to keep all the story lines straight. There's also a political story line involving Rayna's father and husband, which felt like an unnecessary (and frankly, boring) subplot.
When it's on: Wednesdays at 10 p.m. on ABC
You might like this show if: You thought Country Strong would work better as a TV show than a movie.
To watch a preview and see pictures of Nashville, just read more.