Nashville TV Show TCA Panel
ABC's Nashville Is Not Just For Country Music Fans
Following the success of musical shows like Glee and Smash, ABC is honing in on the country music scene with new series Nashville. Connie Britton and Hayden Panettiere headline the drama as a pair of competing country singers, and the actresses came out to the TCA to talk about the show, along with the rest of the huge cast and producers. Britton and Panettiere talked about their singing voices, getting catty on the small screen, and whether or not their characters are based on real country stars. Here are highlights: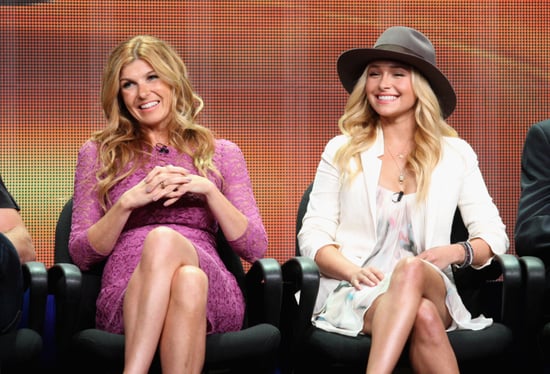 There's been speculation that Britton's character, Rayna, is based on Reba McEntire, while Panettiere's Juliette is modeled after Taylor Swift, but the actresses were quick to deny those rumors. Britton mentioned that her character is more of an amalgam of many different people, while Panettiere said that the only thing Juliette and Taylor have in common is their age and hair color. She added, "I really think Taylor would disagree wholeheartedly with that [the comparisons], too. She's much nicer than my character."
Country music is obviously at the forefront of Nashville, but you don't need to be a huge fan of the genre to enjoy the show. The producers mentioned that there will be different types of music featured on the show, including pop and gospel. They added that there will be original music as well as familiar tunes (Elvis Costello was specifically mentioned), but don't expect to see too many cameos from big names in the country industry.
The producers talked about audiences being "hungry for really great music," but also pointed out that Nashville isn't solely focused on the music industry; there's drama, there's family, there's politics, and the showrunners are hoping the series will be a "thrill ride" that's "really, really exciting to watch."
Panettiere has put out an album before, so she was particularly excited to show off her pipes on the show, especially since she vowed never to return to music unless she was doing country. On the other hand, Britton was self-deprecating about her own voice, saying, "I've sung my whole life, but not really that professionally. Not professionally at all." She also joked that training her voice has been a "journey," while praising the vocal talent of the rest of the cast and calling Panettiere a "legitimately great singer."
To see more from the panel, including Britton's thoughts on Friday Night Lights and American Horror Story, just read more.
Britton has experience playing a strong Southern woman thanks to Friday Night Lights, but don't expect to see too much of Tami in Rayna. Britton said, "This character is actually incredibly different from Tami Taylor of Friday Night Lights. I think even the accent will be different. There won't be as many y'alls."
Britton is coming fresh off her Emmy-nominated stint on American Horror Story, and couldn't even begin to compare the two shows. She said, "What attracted me about both of those is that they both felt really like something innovative and something that we haven't seen before. As an actor, that's exciting. I always want to stretch myself. From American Horror Story to Nashville is a pretty big stretch."
Juliette is a bit of a mean girl, and Panettiere mentioned how that goes against her upbringing. She said, "One thing my parents instilled in me was definitely respect for other people, so when I go on set and have to go against the grain and disrespect, it's definitely something new to me." She added, "If you have a broken heart, if you need a rebound, Juliette is probably prowling around the corner."
There's obvious tension between Rayna and Juliette in the pilot, but their competition won't be the crux of the show. Britton spoke to this point, saying, "My whole mantra from the beginning is that this is not a catfight. I'm not interested in a catfight."