Nebraska Movie Review
Loved The Descendants? You Have to See Nebraska
Nebraska opens in a handful of theaters this weekend, and while it might not be the splashiest debut at the box office this month, it's one of the worthiest. The family drama is director Alexander Payne's first film since 2011's Oscar-winning The Descendants, and stars Will Forte and Bruce Dern as a father and son who set out on an ill-fated road trip. Shot in black and white with the sprawl of the Midwest as its backdrop, this is a film bound to resonate with audiences. Here's why: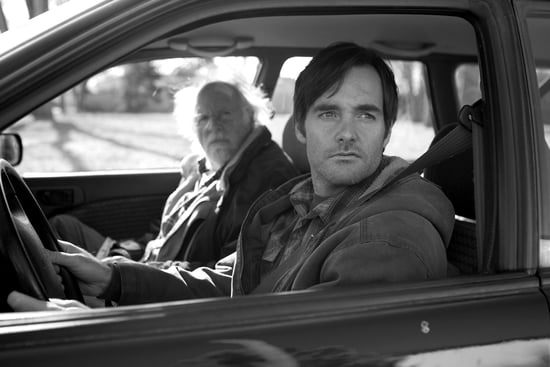 It Features One of Those Rare, True Breakout Performances
If you thought SNL alum Will Forte would forever be MacGruber in your mind, you have another thing coming. The comedian puts in a surprisingly quiet, defeated, and tender performance in Nebraska, laced with a subtle humor that The Falconer never possessed. It may have been an off-kilter and risky casting choice to place Forte in such a dramatically demanding lead role, but the heart and sincerity he brings to the film also made it one that greatly paid off.
Midwestern Realness
Anyone who grew up in a small town will feel a solidarity with some of the real-life clichés of Americana here. Main Street bars that all look identical inside and come with their own gaggle of regulars? Check. A deeply ingrained obsession with owning a new and gleaming pickup truck? Check. The honor and excitement that comes with the chance at being featured in the local paper? Check.

Find out more about why you should see The Descendants after the jump.
It Has a Lot in Common With The Descendants
Fans of The Descendants will find a lot to connect with in this follow-up. Not only does Nebraska juggle the same overarching themes of death, parenthood, and the way reality tends to clash against our dreams, but it does so with the same naturalistic comedy and levity that made The Descendants feel somehow reassuring amid all its sadness.
It's the Ideal Pick For That Requisite, Holiday Family-Movie Outing
Many of us will spend an upcoming afternoon ensconced in a dark theater with a group of relatives, both young and old, close and distant. Among all the award-season offerings, Nebraska stands out as one of the most widely appealing. The generational tensions in the film will give people of all ages — whether an angsty teen or octogenarian — something to latch onto, and the end of the movie is a resounding cheer for the resilience and importance of family. (On a more practical note, it's also mostly free of profanity, sex, and other elements that can make this particular theater-going experience excruciatingly awkward.)
June Squibb
The celebrated actress, who marked her 84th birthday this month, is absolutely unforgettable as Nebraska's steely, sarcastic, and sometimes cruel matriarch. Squibb has a major dramatic pedigree — she starred in the original run of Gypsy on Broadway — and brings a heft and hilarity to Nebraska that leads her to steal each wonderful scene in which she appears. Thankfully, we'll be seeing more of Squibb in the near future; she'll appear as grandmother to Lena Dunham's Hannah Horvath on the upcoming season of Girls.