The Neighbors TV Show Review
Pilot Scoop: The Neighbors
ABC is putting an extraterrestrial spin on the fish-out-of-water story with its new Fall sitcom The Neighbors. The comedy stars Jami Gertz and Lenny Venito as the parents of a typical American family who move to a new area only to find that there's something a little off about their new neighbors. And by that I mean they're all aliens. Here's what you need to know before tonight's premiere.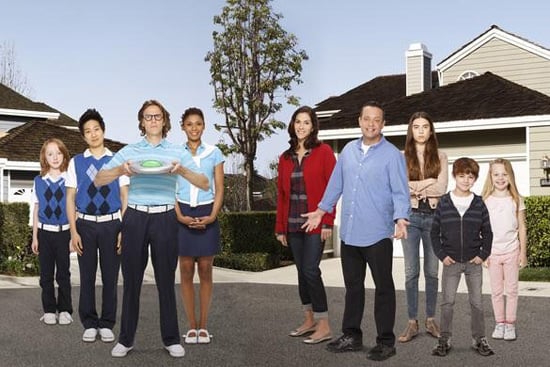 What it's about: Marty (Venito) and Debbie Weaver (Gertz) relocate their three children from the city to the New Jersey suburbs. Things start off well when they're welcomed by the somewhat odd neighbors, until they find out that the whole community is actually a colony of aliens who have been stuck on Earth for over a decade. Following an initial freakout, the Weavers discover that not only are their alien neighbors friendly, but they also suffer from the same types of family and marital issues as humans.
Where it works: A few of the alien rituals and quirks are amusing, such as the fact that the extraterrestrials have named themselves after famous athletes, like Larry Bird and Reggie Jackson.
Where it doesn't: The concept is so ridiculous that it feels like even the actors know it. Also, much of the pilot revolves around the head alien family and how the husband and wife have adopted gender dynamics from the 1960s. It doesn't really make sense, and it's also unfunny.
When it's on: Wednesdays at 9:30 p.m. on ABC
You might like this show if: You'd like to see a mashup of The X-Files and Suburgatory.
To watch a preview and see pictures of The Neighbors, just read more.