New DVD Releases For Feb. 8 Include Life As We Know It, You Again, It's Kind of a Funny Story
What to Rent: New DVD Tuesday
If you need a little break from award season's serious dramas, then today's new DVD releases should do the trick. There are three comedies in the mix here — one romantic, one screwball, and indie — so take your pick!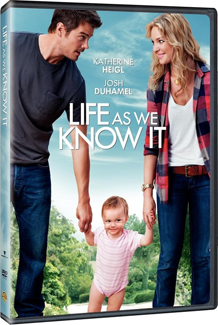 Katherine Heigl and Josh Duhamel star opposite each other as Holly and Messer, acquaintances who are thrown together when they have to raise the baby their best friends leave behind after their untimely death. The opposites clash at first, but eventually attract as they go from inept singles to caring parents in this romantic comedy, which, while completely predictable, is still pretty charming. Maybe it's the heavier-than-usual subject matter that gives it a fresh angle, or the cute, clever dialogue; either way, it's perfect for the rom-com lover. DVD extras include several deleted scenes.
Zach Galifianakis tones down his usual shtick to play Bobby, a mental patient who shows newbie Craig (Keir Gilchrist) the ropes at the mental hospital Craig has just checked into. It's a surprising departure for Galifianakis, who pulls off the serious role and keeps the movie going, even though it does get a little slow. Emma Roberts also stars as Craig's love interest, along with Lauren Graham and Jim Gaffigan as his parents. The DVD extras include deleted scenes, an outtakes reel, a featurette called A Look Inside It's Kind of a Funny Story, and red carpet footage from the film's premiere.
Kristen Bell leads the cast of this comedy as Marni, a twenty-something who visits home to find that her brother (the dreamy James Wolk of short-lived TV series Lone Star) is engaged to her high school rival (Odette Yustman). Mean girl antics ensue, and other very funny ladies get in on the action, like Jamie Lee Curtis and Sigourney Weaver (themselves high school rivals as well), plus Kristin Chenoweth and Betty White. The special features include deleted scenes, several featurettes like an Ask the Cast clip, and the Funny or Die sketch the cast filmed to promote the movie.