New DVD Releases For Feb. 9 Include Couples Retreat, The Time Traveler's Wife, and A Serious Man
What to Rent: New DVD Tuesday
Need a good movie to watch while Winter is still nipping outside? I've got a few good new DVD releases to recommend today, including an Oscar nominee and other highly-anticipated movies. In addition to the flicks below, you can also find The Stepfather, Dare, and Serious Moonlight available today as well.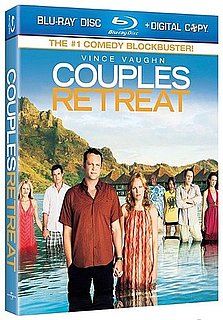 Couples Retreat
Vince Vaughn, Kristen Bell, Jon Favreau, Malin Akerman, Jason Bateman, and Kristen Davis star in this ensemble about a group of friends who find that their relaxing vacation is actually a relationship boot camp. Couples Retreat is not quite as funny as I was expecting, but it makes a pretty good rental — especially with its gorgeous tropical setting.
Extras on the DVD release include an alternate ending, a gag reel, commentary with the director and Vince Vaughn, and three featurettes.
A Serious Man
The Coen Brothers's latest film, A Serious Man, is a dark comedy featuring Michael Stuhlbarg's standout performance as a down-on-his-luck college professor with a wicked sense of humor. It struck me as a bit of a head-scratcher, but it's definitely a thought-provoking, well-made film. And as of last week, it's an Oscar nominated one in the best picture category.
If you're bringing this DVD home, you'll find the featurettes on the making of the movie, and interviews with the brothers Coen.
To see one more release, just
.
The Time Traveler's Wife
Eric Bana and Rachel McAdams star as Henry and Clare in the screen adaptation of The Time Traveler's Wife, Audrey Niffenegger's beloved book. The sci-fi/romance doesn't live up to its written origins, but fans of the book will still get a little satisfaction from seeing the characters brought to life by capable actors Bana and McAdams.
The DVD extras include two featurettes on the movie production.