New Girl PaleyFest Panel 2012 Pictures
PaleyFest: New Girl Cast Talks CeCe and Schmidt's Unexpected Romance and "Too Much Chemistry" Between Nick and Jess
PaleyFest was full steam ahead last night with the hilarious cast of New Girl taking the stage to discuss the first season of their runaway hit. The panel was an hour and half comedy routine filled with jokes about Max Greenfield's small nipples and interesting mole patterns, Jake Johnson's horrible dancing, and Zooey Deschanel's favorite scene to date. The cast also dished about what they hope will happen in the relationships between Cece and Schmidt as well as Jess and Nick. Here are some of the highlights: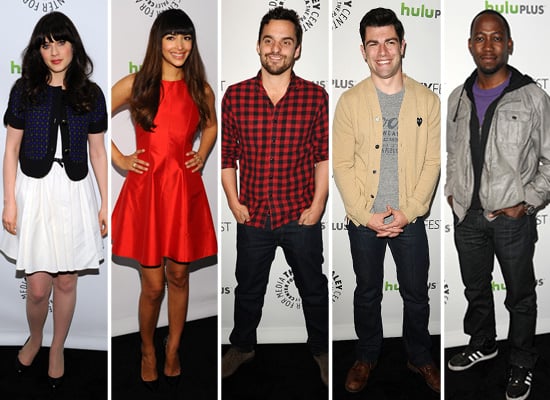 Deschanel on how much of her character, Jess, is based on herself: "It's not really. I would say I put a lot of myself into it, but I wouldn't say it's me at all. It's filtered through my body and voice, that's certainly similar. It's more like a 13-year-old version of myself."
Schmidt's constant nudity has become an ongoing joke among the cast. Deschanel, Johnson, and even Greenfield had a good time poking fun at Greenfield's "tiny nipples" and mole covered physique. Deschanel noted, "[Max's] tiny nipples make his body look more jacked." Johnson also complimented his costar by saying, "Your pecs look huge!" Greenfield played it cool, and even made light of his noticeable chest moles by adding, "When I was a young child, my mother said, 'You know, all those moles on your body, it's a map of the constellations' . . . and you know what? Maybe they are."
Schmidt's way with women has resulted in some hilarious one-liners and popular scenes, but even Hannah Simone was surprised when she found out CeCe and Schmidt were hooking up. "He seduces a woman by listing cheeses! I remember I was reading [the script] and it said, CeCe and Schmidt in bed together and I thought, 'Oh my God, I had a lot of respect for Miss CeCe and now I have to rethink this whole character.'"
Greenfield had a different response to CeCe and Schmidt's new relationship status by simply stating, "It's love. The CeCe thing has really put a wrench in [Schmidt's] plans for the rest of his life. It's not every day a model shows up in the loft and says 'What's going on?' and the next day you're hooking up with her." (An audience member then yelled out "douche bag" and Max stood up and dumped the entire contents of his wallet into the douche bag jar).
To see what else the cast had to say about when we'll finally see Nick and Jess get together, just read more.
Nick and Jess's romance is going to happen, but the writers are happy with what's happening right now. Creator Liz Meriweather talked about their future saying, "We love Nick and Jess together, I just think where they are as characters, it just feels like they have a lot of growing and learning and becoming closer and closer." Deschanel also commented on her chemistry with Johnson saying, "We would be put in a scene and [writers] would be like 'Too much chemistry!' It would be like a normal scene and they would be like, 'We do not want to do that!'"
The panel also revealed that future episodes will deal with Schmidt's OCD, a new drinking game the group calls "True America," and Jess's upcoming affair with "real man" Dermot Mulroney. According to Deschanel, "Dermot plays the father of a student in the class that I teach who is very sophisticated, debonair and fancy. He first engages me with banter. We start a whole thing, a little something-something over the course of some episodes. He's awesome, we love him." Jess isn't the only one who loves him as it seems: Nick falls for his charm, too. Johnson added, "Nick falls in love a little bit, I think [Dermot's] character Russell, he just sweeps Nick off his feet."
Stay tuned for more updates from PaleyFest including tonight's coverage of the Parks and Rec panel and updates from Saturday's Vampire Diaries chat with the cast.