New Girl PaleyFest Panel 2013
New Girl's Cast Talks Nick and Jess and Their Upcoming Virginity Episode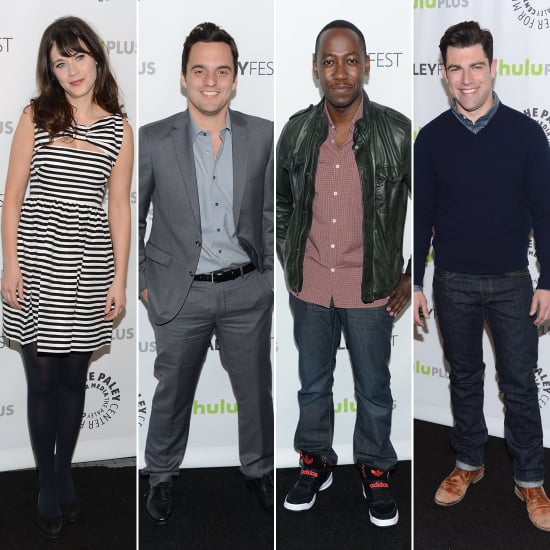 Last night, the cast of New Girl joined forces for the comedy's PaleyFest panel, where they spilled lots of intel on what's to come throughout the rest of the season. Zooey Deschanel, Hannah Simone, Jake Johnson, Lamorne Morris, and Max Greenfield were all in attendance, as was show creator Liz Meriwether. They presented a sneak peek at next week's episode, which features Jess spilling her guts — unintentionally — to Nick while she's on pain pills. We also learned about a dramatic episode ahead that will spell a bit of a departure for the show and the return of some familiar faces. Check out some of the highlights, but be warned: there are some spoilers ahead!
On the last-minute nature of Nick and Jess's kiss: Liz and producers said that they've struggled a lot with how to handle Nick and Jess's sexual tension. In fact, Zooey said, the kiss between them was a last-minute addition to the episode, pitched just a few days before it was shot. Jake added: "I think that episode was really well written." He also said he wanted the kiss to happen for a long time!
On

Cece

and Schmidt's future: The moderator suggested that Cece and Schmidt are going through a bit of a "rocky patch" after the last episode's proposal. "She's engaged to another man and you call that a bit of a rocky patch? You are a hopeful man," Hannah joked. Max also weighed in: "I really think what we start to do with them is that we realize that both these characters needed to grow up themselves before they could be together. And I think, especially on Schmidt's end, there's a lot of room."
On moving the show to Chicago for a new episode: "Nick's father passes away," producer Dave Finkel revealed, and the roommates head to Illinois for the funeral. "We're really fortunate that the cast of people are really great comedy actors, but also very good actors, so every now and then we allow ourselves to do something that gets into a little deeper territory than the average sitcom."
On whether we'll ever learn Schmidt's first name: The producers said they almost revealed Schmidt's name on the last season of the show and had even written it into the script, but decided to cut it out — they wouldn't reveal it to the audience last night. "I like Schmidt. I don't ever want to know what it is," Max said. Jake added: "It's like Cher. It's Schmidt."
To read more about New Girl's future and behind-the-scenes secrets, just keep reading.
On the return of Jess's parents: Rob Reiner and Jamie Lee Curtis appeared on the Thanksgiving episode of the show as Jess's divorced parents, and the producers revealed that Rob will be back on an upcoming episode, too. "I didn't even know that! Thank you for telling me!" Zooey said.
On the upcoming "virginity" episode: The cast teased an upcoming episode that will feature flashbacks to how each character lost his or her virginity. Liz said it will feature "fat Schmidt" in his dorm, "moving through space a little bit. He gets very overzealous with some lube."
On the almost-appearance by Emily Deschanel: When one audience member asked Zooey who she thought might be a good fit to play a long-lost sister for Jess, she of course mentioned her own sister, Emily. In fact, she said, they discussed having her play another character on a past episode. "We had talked about getting her to play — remember the episode with Katie? — there was the episode at the beginning of the season," Zooey said, "where I pretend to be Katie who is answering an ad on a dating site, and [that's how I meet] David Walton. And they thought it would be funny to have Emily walk in and be Katie."
On the Romneys' reaction to Tugg: Liz said the writers really wanted to touch on the election in some funny way, and Max Greenfield's Tugg was the answer. Max said, "I did hear that they [the Romney family] made quite a fuss about it on Piers Morgan. They were awfully excited about it. Probably more excited than I would have liked them to be. What a hoot!"
On Jess tackling a new character: "In a few episodes, I get to play Elvis," Zooey said. "Which was kind of a dream come true."