New Girl Season 2 Finale Recap
4 Things We Loved About the New Girl Season Finale
New Girl wrapped up its second season this week with a wedding, an amazing make-out session, and hijinks galore. Though Nick and Jess are always the focus for us, there's a lot going on — Cece's wedding gets sabotaged (I mean, sabo-ed), one couple doesn't make it, and Taylor Swift herself is there. The episode is a pleasing ending to a funny season filled with will-they-or-won't-they moments, and before we say goodbye, let's talk about our four favorite things from the New Girl season finale.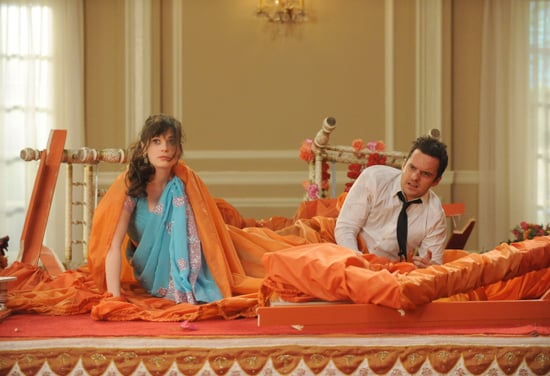 The song "Cotton Eyed Joe." The '90s one-hit wonder plays a very important role: it's part of Schmidt and Winston's plan to sabotage Cece's wedding. It's a hilariously random song to pick, and the fact that Nick can't resist fist-pumping to it is priceless.
Nick and Jess "un-call it." Nick and Jess finally have an honest conversation about their relationship, where Jess confesses there's a part of her that's scared that Nick may be too much of a mess to get involved with. They agree to "call it," and my heart broke — but their feelings for each other are too strong, and Nick goes after Jess, who's ready with a speech. Nick's response is the best: a big 'ol kiss.
Winston is the voice of reason. Thank goodness for Winston. He may be weirdly awful at pranks, but he's a good friend with great advice. He's the one who tells Nick that drinking his feelings away is Nick's dad's move — but it doesn't have to go down that way.
Cece admits her feelings for Schmidt. Schmidt has been chasing Cece all season, only giving up on her recently and finding happiness with Elizabeth. As a Schmidt/Cece fan, I'm glad that not only does Cece not marry Shivrang, but also that it's her who admits she wants to be with Schmidt. I'm even kind of glad Schmidt doesn't pick between her and Elizabeth yet — there has to be some kind of cliffhanger!