New Girl Set and Show Details
5 Fun Things I Learned on the New Girl Set
The Winter TCA is all about the shows premiering in the midseason schedule, but reporters got to take a break from all the upcoming series to visit the set of a Fall hit: New Girl. I checked out the digs while stars Zooey Deschanel, Jake Johnson, Max Greenfield, and Lamorne Morris and creator Liz Meriwether answered questions and spilled some fun details about the Fox show.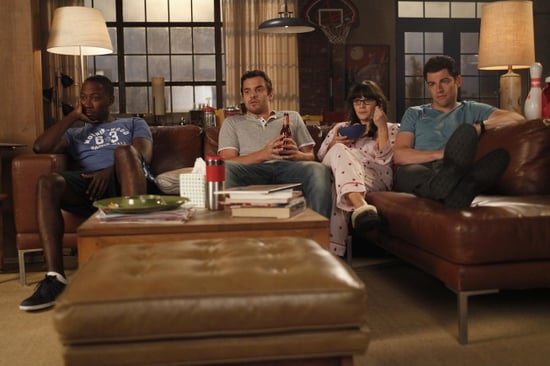 The apartment is meant to look like industrial. Meriwether said that there was a distinct idea for the apartment Jess shares with the boys. "We just wanted the feeling of a space that once was a factory and now is a loft," she said, mentioning that it's also set in downtown LA, where there are a lot of these spaces.
There's one element of the apartment Meriwether gets asked about all the time: the urinals. "I get a tweet every week about whether urinals are in the bathroom," she said. There are — I saw them.
Deschanel's style bleeds into Jess's. "I think it always ends up seeping into the characters I play — my own personal style," the actress said. "I have sort of a very distinct sense of fashion for myself and what the characters should wear, so it does always end up sort of just edging its way into the wardrobe for whatever I'm working on."
The costume designer has a TV classic on her resume. Deschanel praised the woman behind New Girl's wardrobe, Deborah Maguire, and revealed that she worked on another show that featured goofy roommates. "She's amazing. She did Friends. She's ridiculously talented and I'm obsessed with her, I love her so much. She's a fashion soulmate, so we just nerd out on fashion."
Jess and Nick are probably not getting together anytime soon. "I'm not sure that's what this show's about in this season," Meriwether said when asked how long the sexual tension between Jess and Nick can last before anything happens with them. "It's about Jess and Nick sort of coming out of these bad relationships and trying to learn how to be people again and try to learn how to date again. I feel like they have a long way to go as characters.