New Girl TV Series Starring Zooey Deschanel Preview Clips and Pictures
Pilot Scoop: New Girl
Zooey Deschanel makes the jump from movies to TV in the new half-hour comedy New Girl, which premieres tonight on Fox. If you love the quirky actress and are thinking about checking out her new series, I've got the details on the first episode, which might help you figure out if you'll want to watch.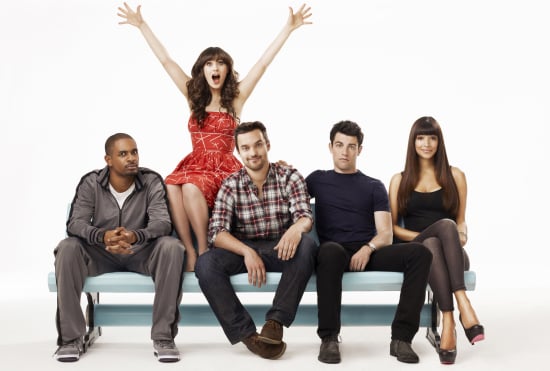 What it's about: Deschanel plays Jess, a girl who moves in with a group of guys after she finds her boyfriend cheating on her. The guys — Jake Johnson, Max Greenfield, and Damon Wayans Jr. (whose role was recast with Lamorne Morris since Happy Endings was renewed) — accept goofy Jess as a new roommate because they think Jess will bring around her model BFF (Hannah Simone). To their dismay, the heartbroken girl spends all her time moping, until the guys resolve to help her get back in the dating world — and friendship among them blossoms.
Where it works: Deschanel and the men have instant chemistry in the pilot, and there are lots of funny moments, thanks to funny writing and a cast with great timing (especially Johnson and Greenfield).
Where it doesn't: Deschanel is mostly charming as Jess, but she goes over the top when she tries to make her too much of a nerdy goofball. When she tones it down, she nails the everygirl routine.
Am I hooked? Totally. I want to see more of this cast, and see which of the roommates Jess will inevitably hook up with.
When is it on? Tuesdays at 9 p.m.
To see more photos and a video preview of New Girl, just read more.