New Harry Potter and the Deathly Hallows Footage Revealed at Comic-Con 2010-07-25 01:15:48
Comic-Con Reveals More Harry Potter and the Deathly Hallows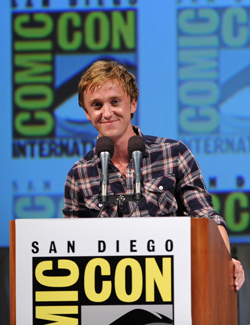 Though Daniel Radcliffe couldn't make it out to Comic-Con, Tom Felton (aka Draco Malfoy) was on hand to show new footage from Harry Potter and the Deathly Hallows to a large crowd of fans (many of whom dressed as wizards to mark the occasion). "These last two films have really been what we're working up to," he said. And with that, the lights went down for a preview from the final two movies of the saga.
At first, most of the footage looked exactly like what we've already seen in the previous trailer, until the video kept on with a few new scenes. There's a longer look at the fight between Ron and Harry in the tent, plus a funny quick peek at the seven Harrys. Bill Nighy's Rufus Scrimgeour also pops up, and the crowd cheered for his appearance. After the preview, Felton talked a bit about wrapping filming, noting that "Dan cried like a little girl." I'm not sure how Radcliffe will feel about that comment, but Harry Potter fans seemed a little bummed out, too. The presentation had a nice sneak peek, yet it really only left us wanting more.
Be sure to check out all of my Comic-Con coverage and follow me on Twitter for live updates!