New Music Releases For April 13 Include MGMT, Jason Castro, and Coheed and Cambria
What to Download: New Music Today
There's not just new movies to rent today — Tuesdays mean there's also new music! And you better make some space on your MP3 player: there's a new MGMT album in town. I've given it and other sets of tracks a listen, and have my recs below.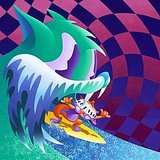 I've been yammering about how I excited I've been for MGMT's second album, Congratulations, for months now. Since getting a listen of "Flash Delirium," it's been clear that their second effort would be less of a showcase of dance-y singles. Instead, the Brooklyn band is showing off their evolution with new sounds, which include the slowed-down and introspective (as in the title track). But the upbeat hooks remain, like on "Someone's Missing." If you're into the new vibe, check out "I Found a Whistle," one of my new faves.
From the American Idol factory comes seventh-season alum Jason Castro. His self-titled debut is full of the sweet, upbeat pop you'd expect after the dreadlocked singer-songwriter's stint on the reality show. Sometimes it's a little too sweet, like with "Let's Just Fall in Love Again." But the romantic feel is kind of irresistible — I could imagine being secretly addicted to love song "This Heart of Mine." And he certainly hasn't forgotten his roots: he included the pretty version of "Somewhere Over the Rainbow" that he once performed on Idol.
To see one more new release today, just
.
Coheed and Cambria are going to be at Coachella this weekend, and no doubt their fans will be jonesing for tracks from their latest, Year of the Black Rainbow. As usual, there are plenty of heavy head-bangers: "Here We Are Juggernaut" helps kick off the party, while "The Broken" has a chorus that's a bit more soulful (but still a thrasher). What's going to get the desert folks moving? "The Guns of Summer."