New Music Releases For April 6 Include Jakob Dylan, Dr. Dog, and Sharon Jones & the Dap Kings
What to Download: New Music Today
If today's DVD releases aren't enough fresh entertainment for you, then look over here, because I've got the new music that's out today. I've gone through and given a listen, so check out my recommendations for your iPod!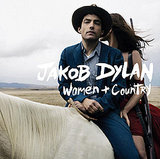 The prodigal son returns: Jakob Dylan's new album was produced by T-Bone Burnett and is aptly titled Women and Country. The mellow tracks on his sophomore record are both countrified and feature beautiful guest vocals from folks like Neko Case and Kelly Hogan. I knew automatically that I'd prefer "Nothing but the Whole Wide World" because it has Case on it, and I was dead-on: it's my favorite. Coming in at a close second is "Everybody's Hurting," a soulful, string-filled dirge. "Truth For a Truth" makes Dylan sound like he's always been a country star, with bluesy lyrics and again, gorgeous female back-up.
Save your soul: Sharon Jones & The Dap Kings' latest is I Learned the Hard Way, and the retro sound isn't just due to the Motown-like vocals — the band prefers to use recording methods and instruments from the 1960s and 1970s for an authentic soul/funk result. The title track, with its ooohs and lush chorus, sounds like a throwback hit you'd hear on the oldies station. Throw on "Better Things," and just try to resist moving your shoulders and getting a little groove in your seat.
To see one more release, just
.
No shame in singing along: Indie group Dr. Dog's Shame, Shame is a good vibes, good time rock record. Get an ample taste of it with "Where'd All the Time Go?" and "Unbearable Why." Meanwhile, the track "Shadow People" has a decidedly old school Flaming Lips-like sound — which means I love it.