New Music Releases For Jan. 12, Including Vampire Weekend and OK Go
What to Download: New Music Today
We've covered the most Netflix-worthy DVDs of the week, but it's also a big day for music releases. Vampire Weekend's Contra officially hits stores (I'm talking "officially" — not all of those online leaks), along with OK Go's latest. I'm taking a look at both albums, but Heidi Montag's debut Superficial hits iTunes today, too.
(Don't forget to check out the Music Review Group. If you submit your own writeup, I may even feature your thoughts on the site!)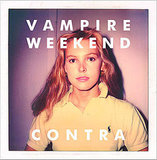 English-major rock returns: Vampire Weekend got a lot of deserved attention for its debut album two years ago, so the pressure for followup Contra to be as good is high.
"Horchata" and "California English" sound like logical progressions of the band's sound but nothing shockingly different. Those looking for a departure should queue up "Giving Up the Gun" and "I Think U R a Contra" for rare slow treats, but my prediction for the catchy standout single — the "Oxford Comma" of the group — is "Diplomat's Son."
Pop with a cool twist: You're probably most familiar with OK Go for their treadmill-happy video for "Here It Goes Again." On their latest album Of the Blue Colour of the Sky, the guys deliver a similarly upbeat feel mixed with a dash of swagger thanks to singer Damian Kulash's falsetto. Eighties electro-synth pops up a few times (I noticed it most on "End Love"), and the '60s get due recognition too with the psychedelic, trippy feel of "Back From Kathmandu." My favorite off the album, however, is "WTF?" which channels Prince. It's an absolute must.