New Music Releases For Jan. 19 Include Spoon, Eels, Crazy Heart Original Motion Picture Soundtrack
What to Download: New Music Today
It's Tuesday, which means that you not only get a dose of fresh new movies on DVD, but you also get some new music releases. Today, we've got rock, indie, and country, so check out my recommendations below for what's worth a download.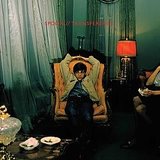 Reliable rock: I'm a huge Spoon fan and have been waiting for a new album since the last, Ga Ga Ga Ga, came out. I just can't get enough of the consistently great band, and Transference doesn't disappoint one bit.
The first single is first for a reason: "Written in Reverse" is on the more aggressive side of Spoon songs, with its banging on piano keys — it's best listened to cranked way, way up. The equally strong "I Saw the Light" keeps up the tempo, as does Nobody Gets Me but You." If you're looking for a change of pace from the band, cue up lullaby Goodnight Laura, which features lead singer Britt Daniel humming through a melancholy, but sumptuous ballad.
Rainy day tunes: Eels offers up another mellow disc with End Times, and though the title indicates the bleakness that many of the songs explore, there's a charming harmony to "Mansions of Los Feliz" (though the lyrics are pretty dark, to tell you the truth). Less upbeat, but somehow still soothing is "Nowadays." By the time you get to the haunting "I Need a Mother," you may need a hug, but it's all worth it.


To see one more new release, just
.
Gone country: The first thing I was entranced by in the Crazy Heart trailer was the song that plays over the spot, "The Weary Kind." I wasn't alone — it won the Golden Globe for Best Song Sunday night. The rest of Crazy Heart Original Motion Picture Soundtrack is a countrified songfest, and yes, other tracks from the movie actually are Jeff Bridges singing, like "Fallin' and Flyin'," which also features costar Colin Farrell. Speaking of, I love trying to detect the Irishman's accent in the twangy "Gone, Gone, Gone" (verdict? It's gone, gone gone).