New NBC Show The Event Panel at Summer TCA Details
The Event Casts Its Puzzling Shadow Over the NBC TCA
It's NBC day at the Summer TCA, and the network presented us with The Event, the action/thriller show that could take the place in your heart that Lost left behind. I already got to spotlight the new series, but the stars and execs revealed a bit more about the mysterious new drama.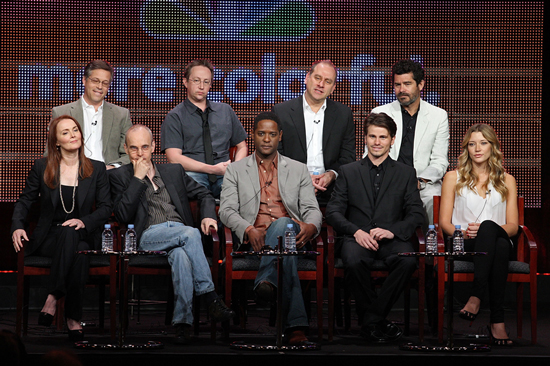 The stars of the show — Jason Ritter, Blair Underwood, Sarah Roemer, Laura Innes, and Zeljko Ivanek — admitted that they don't know much about the central mystery, aside from what their characters know. Ritter said they'd each been given a character dossier, which Innes said the actors were instructed not to share with each other. When asked outright if her character was from outer space, Innes didn't exactly answer, saying, "There are many secrets to be revealed about her." Indeed, executive producer Evan Katz said that "all of these characters have secrets," and the show will be about "peeling away those layers" of them.
There were lots of comparisons to other mystery-based series like Lost and Heroes, which brought up questions about how drawn out the questions are going to be. Katz implied that the audience won't get frustrated, and in the second episode, they are "very clearly answering the two largest open questions in the pilot." Creator Nick Wauters said that "you'll have more immediate answers to your questions but you still have to go on faith that we know what we're doing." Luckily, the showrunners said that they're "very cognizant of the audience's patience."
For more details on The Event from the TCA, just read more.
Roemer plays Leila, the girlfriend of Ritter's character who goes missing, and she revealed a little hint at her background. She said that Leila is from a "seemingly perfect family that quickly falls apart things." As you'd expect from a show like this, she said her family "aren't really what they seem." Very interesting.
Ritter describes his role of Sean Walker as "a nice guy who went to MIT," whose main drive is his love for Leila. "He'll do anything to get her back," adding, "he has to do a lot of crazy things."
Blair Underwood, who plays the fictional president faced with disaster, describes what kind of leader his character is: "smart, optimistic, very politically savvy" who is "very smart to learn from the mistakes of the past."
Zeljko Ivanek — who tends to always play the bad guy (he's the Magister on True Blood and JJ on Big Love) deflected the question of whether he's a bad guy on this show, too, saying that his character is trying to protect his country and that "his heart is in the right place." Sounds like a bad guy to me.