New NBC Shows Fall 2012
NBC Pilots: Find Out About the New Shows Joining the Lineup
The networks will trot out their brand-new TV shows at next week's upfronts, but before we get a look at previews and find out the schedules, we're going to acquaint you with the upcoming series. First up are the shows coming to NBC, so check out the comedies and dramas that the network has picked up for the Fall 2012 season.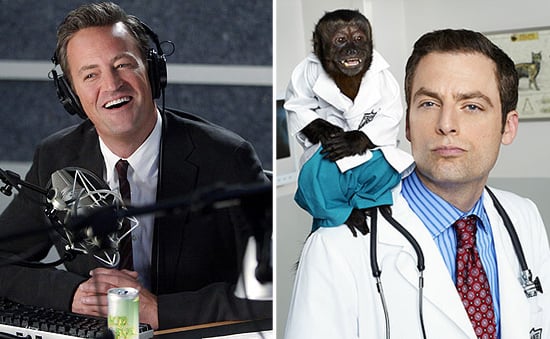 COMEDIES
Go On: Matthew Perry stars as a sportscaster who starts attending group therapy sessions after he suffers from a loss and bonds with the members of his group.
Animal Practice: Weeds star Justin Kirk plays a veterinarian who loves his furry subjects but doesn't like their human owners.
The New Normal: A gay couple played by Justin Bartha and Andrew Rannells use a surrogate to start their family in this comedy from Glee creator Ryan Murphy.
Guys With Kids: Three dudes (Jesse Bradford, Nick Cregger, and Anthony Anderson) experience the joys of being dads together.
Save Me: Anne Heche plays a woman who thinks she can channel God after she has an accident.
1600 Penn: This White House-set comedy follows a fictional president played by Bill Pullman, his first lady (Jenna Elfman), and his goofy son (Josh Gad).
Next Caller: This workplace comedy takes place in a radio station and stars Dane Cook as a chauvinistic DJ who butts heads with his female colleague.
DRAMAS:
Revolution: This drama, produced by J.J. Abrams and written by Supernatural's creator, depicts a world where all technology has suddenly stopped working and its characters (played by Giancarlo Esposito and Billy Burke) struggle to connect with their loved ones.
Hannibal: This drama explores the relationship of notorious character Dr. Hannibal Lecter as he mentors detective Will Graham, played by Hugh Dancy.
Chicago Fire: The staff of a Chicago firehouse is the focus of this action-packed drama, which stars Taylor Kinney of The Vampire Diaries and House's Jesse Spencer.
Do No Harm: A neurosurgeon struggles with his job and personal life because he also has a Jekyll & Hyde-like alter ego.
Infamous: A female detective (Meagan Good) goes undercover to return to the home of the wealthy family her mother was a maid in and solve a murder.