New Pictures From Gossip Girl Season 4 in Paris 2010-07-29 18:30:00
A Taste of Gossip Girl in Paris, Plus New Photos!
Ooh la la: another day at the TCA wrapped with a special panel on Gossip Girl, where we were treated to the first trailer from season four — on location in Paris! Ed Westwick was the lone cast member on the panel, along with creator Josh Schwartz and producer Stephanie Schwartz. I already chatted with Westwick about Chuck Bass's downfall, but today we learned what it was like to film overseas, when Jenny will make her triumphant return, and more.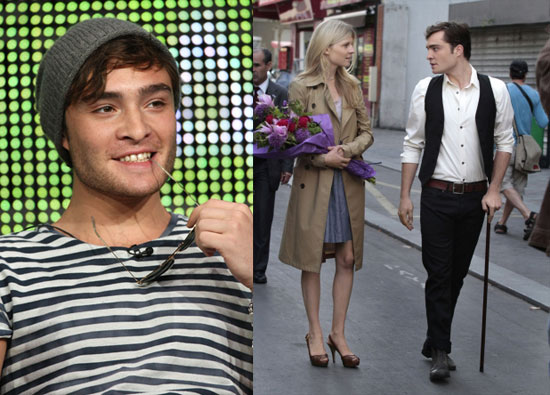 First, let's talk about the new trailer. I'm sure you'll all see it in a matter of days but here's a sneak peek: we see Blair and Serena touring Paris, Serena taking off on the back of a motorcycle, and ultimately, Blair throwing Serena in a fountain. We also see Dan with a baby (not sure if it's his baby just yet) and Nate surrounded by a harem of scantily clad ladies. It all leads up to the big moment when Chuck and Blair come face to face again in the city of lights.
Josh Schwartz said the Chuck and Blair meeting will have "explosive consequences" and that the happenings in Paris will echo throughout the whole season for all of the characters.
If you were worried about Little J, rest assured she will make a return. The producers kept mum on when exactly she'll resurface but they did promise that it will be in the first half of the season.
For more from the panel, including details on Katie Cassidy's character and Chuck's new love interest, just read more.
Westwick reiterated how much he loved working with Harry Potter's Clemence Poesy, while Schwartz said that Katie Cassidy will stir the pot and raise some trouble. No surprise here if you caught Cassidy on Melrose Place.
Though Westwick said he avoided crazed fans by holing up in his hotel room watching the World Cup, filming took the kids to iconic sites including the Eiffel Tower, the Musée d'Orsay, and the Gare du Nord. Westwick joked that Leighton Meester and Blake Lively got most of the famous spots, while Chuck was stuck in the train station.
There was lots of talk of how Gossip Girl translates overseas. Over in Paris, a dubbed version of the show airs on Sunday afternoons, so it's not exactly a hit. Westwick said that he'd love to hear what he sounds like dubbed in French, and the producers added that Gossip Girl's sign-off is "Bisous Bisous."
Other things to expect next season: now that Mercy has been canceled, Michelle Trachtenberg is free to bring Georgina Sparks back — and apparently we'll be seeing more of the character "in more ways than one." Hmm.
Also, the Gossip Girl site will be getting "a face-lift with new sections" in an attempt to keep up with the fast-paced technological times.
Gossip Girl