New Sex and the City 2 Poster Features Sarah Jessica Parker as Carrie Bradshaw in the Desert 2010-04-13 11:03:17
Carrie Bradshaw in the Sand in New Sex and the City 2 Poster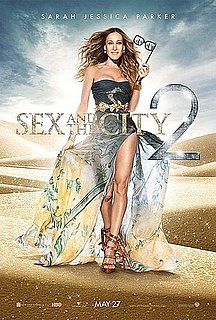 The new Sex and the City 2 trailer may be enough to get you excited for May 27, but just in case you're an insatiable superfan, I've got a look at the latest poster for the movie.
It's Carrie Bradshaw decked out in typical over-the-top fashion, strolling through the desert. I still have some qualms about a camel-filled adventure, but hey, she looks hot, and I'm excited nonetheless. Also, I need those shoes. What do you make of this new one-sheet?
To see a larger version of the poster, just
.