New Video Clip and Photos of Kristen Stewart and Dakota Fanning in The Runaways 2010-01-21 12:30:33
Kristen Stewart and Dakota Fanning in a Runaways Clip — Plus New Photos!
As I head to Sundance today, The Runaways is one of the films at the top of my must-sees. I'm so curious if Kristen Stewart can leave Twilight's meek Bella behind and channel the ferocity needed for a musical icon like Joan Jett. Judging by last month's teaser trailer, she has the rock-n-roll attitude (and the hair) down, and now we're getting a closer look with a just-released clip and several new pics.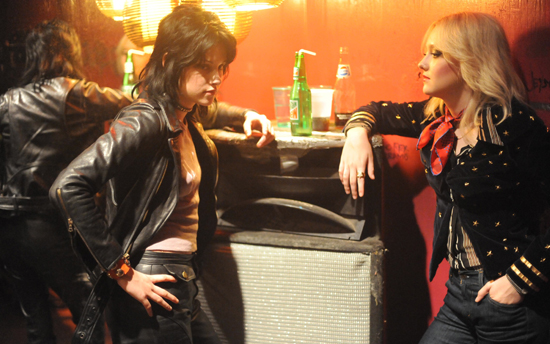 In the brief snippet, we watch as Cherie Currie (Dakota Fanning) is introduced to Joan, thus beginning their collaboration. Fanning is totally trying to give off tough chick vibes to the camera, which is taking me some getting used to (sorry, Dakota, but your sweet, child actor days aren't the easiest to block out of memory). Still, the new footage and stills are piquing my interest even more to catch the movie in its entirety over the next few festival days.
Watch the clip, and check out all of the new photos (seven total!) when you
.
Photos courtesy of Apparition