New Video For LCD Soundsystem "Drunk Girls"
Check Out the New LCD Soundsystem Video For "Drunk Girls"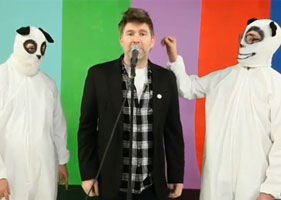 One of my favorite performances at Coachella this weekend came from LCD Soundsystem. They brought the house down on Friday night, showing off their new party anthem "Drunk Girls." Now we've got a video to go along with the song: there's nary an intoxicated lady in sight, but there are plenty of mischief-making troublemakers dressed as pandas. That's right, pandas.
Check out the good, messy fun when you
.