New Year's Eve DVD Release Date
What to Rent: New DVDs This Week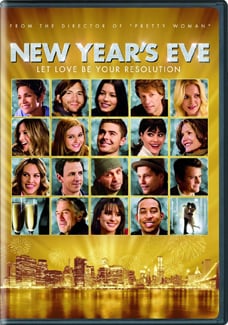 Garry Marshall's latest ensemble comedy features a whole bushel of A-listers. Everyone from Ashton Kutcher to Robert De Niro makes an appearance in the flick that features stories of people experiencing New Year's Eve in New York City. The movie also stars Glee's Lea Michele as an aspiring singer, Michelle Pfeiffer as a woman on a mission to cross items off her bucket list, Zac Efron as the bike messenger who helps her, Katherine Heigl as Jon Bon Jovi's super angry ex-girlfriend, and many others. Though the film isn't the best in the genre, it's fun to see all the stars assembled and matched-up together. Extras include director's commentary, a gag reel, and deleted scenes.
7%
Real-life mixed martial arts fighter Gina Carano stars as Mallory Kane, a skilled black ops soldier on a mission for revenge after she is betrayed. Director Steven Soderbergh wrote the story around Carano after seeing her in a match, which means her butt-kicking skills are the focus of this action thriller. Also showcased? Antonio Banderas, amazing chase sequences, Channing Tatum, and lots and lots of hand-to-hand combat. Extras include a featuring looking at "the men of Haywire" and Gina Carano's training for the movie.

80%
One more release when you read more.
Abbie Cornish and James D'Arcy star in W.E., a historical romance directed and cowritten by Madonna. Cornish plays a modern woman obsessed with learning about the decades-old love affair between King Edward VIII and Wallis Simpson (Andrea Riseborough), the woman he gave up the throne to be with. The film won accolades for its style, even landing an Oscar nomination for achievement in costume design. DVD extras include a making-of piece featuring Madonna.
13%