Nick Lachey and Vanessa Minnillo Interview
Vanessa Minnillo Says Working With Nick Lachey Is "Weird," Plus Their Valentine's Plans!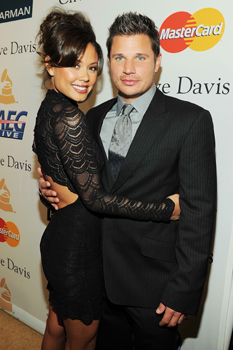 What would Grammys weekend be without the infamous Clive Davis party? The shindig is the Grammy go-to bash, and this year, musicians and actors alike came out for the big event. I managed to grab a couple of minutes with cute twosome Nick Lachey and Vanessa Minnillo, who walked the carpet together. They shared behind-the-scenes scoop about their guest spot on Hawaii Five-0 (airing this Monday!), revealed what's currently playing on their iPod, and spoke about Valentine's Day plans. The engaged couple looked incredibly happy, and Nick even paid his fiancée a sweet compliment. Just keep reading!
You're both guest star on Hawaii Five-0 this week. What was it like filming together?
Vanessa Minnillo: It was weird. They said you need to be this way toward him at this point, and I literally caught myself in giggle moments. I don't know how people do it in relationships, acting together. I couldn't do it.
Hawaii Five-0 is such an action-packed show. Will we see you doing any action scenes?
Nick Lachey: There was a little action. I campaigned to be able to do some of my own stunts, and I was happy the production let me do some of that.
VM: He got a bruise on his elbow.
NL: I was limping for a couple of days, but I was a real warrior at the end. It was a lot of fun, great cast, great group; the whole experience was a blast.
And Vanessa, you're coming off of your guest spot on 30 Rock. Did you enjoy doing comedy?
VM: That was amazing. You know, when you're working beside Tina Fey and Elizabeth Banks, it can only make you better as an actor. But the script is so well written. Honestly, I'm grateful that people are giving me accolades for it, but it's such a great show, and it's just so well written, and the actors are so great that they made it better for me.
So can we expect more TV appearances from you guys?
VM: Yeah, it's pilot season right now.
NL: She was born to be on TV. It's her destiny.
Since this is the Grammys, what are you listening to right now?
VM: You know, on the way here we were listening to Daft Punk, the Tron soundtrack.
NL: I'm addicted to the Tron soundtrack.
VM: We're obsessed with it! Oh my god, if you don't have it, get it, drive with it. It's addicting. I clean the house to it; it's amazing.
NL: It's like going into battle. If you're trying to get fired up for something . . .
VM: "Arena" — that's the song that will get you going.
Any big Valentine's Day plans?
VM: Watching Hawaii Five-0! Is that really corny? We're going to dinner and then watching ourselves on TV.
NL: It happens to air on Valentine's Day.
VM: And then we'll criticize each other, and who knows?