Nick Offerman Interview About Ron Swanson on Parks and Recreation
Parks and Recreation's Ron Swanson: 10 Fun Facts About the Man Behind the Mustache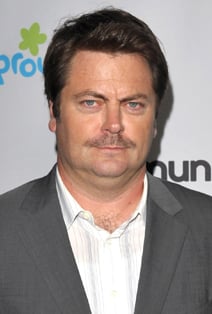 On Parks and Recreation, Nick Offerman plays one of the show's most fascinating characters: Ron Swanson. The curmudgeonly government official loves every kind of meat, barely tolerates people, and hates his same-named ex-wives. Over the course of three seasons, Offerman has managed to make Ron hilarious and surprisingly likable. He and series creator Mike Schur recently chatted with reporters about the upcoming season of the show, and Offerman revealed some details about himself that rival Ron's persona.
He Has a Secret Love For Ballet
Offerman responded to a question about which of his own personality traits he wants Ron to adopt by saying, "I have a penchant for the ballet, and I've been pitching the fellows for the whole time we've been in production for a Ron Swan Lake episode."
His Onscreen Ex Is His Real Wife
You may not know that Offerman is married to Parks and Recreation guest star Megan Mullally, who plays Ron's second wife, Tammy 2. He sang her praises, as well as Patricia Clarkson's, who will be on season four as his first wife, Tammy 1: "We've been incredibly fortunate with the selection of ladies that have graced our stage with their presence, talent, and beauty. I think what the audience will be surprised to learn is that Tammy 2, played by Megan Mullally, the gorgeous Megan Mullally, may turn out to be the most kitten-like, timid women of the Tammys. I am about as giggly as a schoolgirl to have landed in a position where I'm portraying a man who has made love to both Megan Mullally and Patricia Clarkson. That is a consummation devoutly to be wished."

To find out what other delightful details Offerman revealed about himself, just read more.

He Really Plays the Sax
Noting that Ron's wood shop is Offerman's wood shop in real life, Schur divulged another Offerman skill that has been integrated into the show. Schur said, "The Duke Silver saxophone playing is also a real-life Nick Offerman thing. Nick really plays the saxophone, that's really him playing in the episode from season two. . . . There's no end. We could probably just base episodes around Nick Offerman's real-life skills and have a long and happy run."
He Thinks His Appeal Is in His Scent
When Offerman was asked why he thought audiences had responded so well to Ron Swanson, Offerman credited his smell. "I usually assume it's my musk that attracts people. I keep the dander to a minimum and I keep it clean, but I use just a little bit of hibiscus oil behind each shoulder. That would be my guess."
He May Be Patricia Clarkson's #1 Fan

Offerman confessed his admiration of guest star Clarkson, admitting, "I've been such a huge fan of hers for many years, and it's nothing short of a dream come true that I got to actually work in scenes with her. When the possibility arose, I couldn't believe my lucky stars. And she even surpassed our expectations. Not only is she a gorgeous and an incredible actress, but she is insanely hilarious to boot. I think everybody on set was just bowled over with how funny she was on the show."

He's Not Starving Himself to Fit Hollywood's Ideals
Offerman did a nude photo shoot with wife Mullally last year, and he joked (I think) about his unusual preparation method. "To prepare for that photo shoot, we took a three-week tour of Europe where I sampled the sausages of five nations, ending with a 16-inch long bratwurst in the town square of Prague, a mere 18 hours before that photo shoot. And if you look closely in the picture, you can make out a bulge that I think is representative of that particular pork sausage."
He Believes a Real Man Should Have Hair on His Chest
Offerman's other tidbit about his photo shoot led to him decrying the trend of manscaping, declaring, "I can legitimately say that I insist on no shaving or waxing. I think that the emasculation of the modern man in popular culture is something that has weakened our society considerably. I don't know why a heroic male these days has to have a hairless torso. You know, when I grew up admiring Joe Don Baker swinging a baseball bat and walking tall, he was a hairy son of a b*tch. And to me, that's a hero. You know, I'm a big fan of your Brad Pitts and your Jude Laws, but I'd like to see a little hair on their chests if they're going to be beating somebody up."
He Uses Spot-On Fish Metaphors
Offerman offered up a little-heard analogy after he talked about his favorite things about playing Ron: "I love when I get to eat meat. I love when I get to dangerously make out with my wife to the point of destroying buildings and furniture. And I love everything about it. Every time I'm handed a new script, I feel like a large-mouth bass at a night crawler convention."
He Has a Hard Time Keeping a Straight Face . . .
Offerman finds it a challenge to keep it together while filming the show, saying "One of the hardest things about the job, when you are working with a cast of 10 home-run hitters, is simply tolerating their skill without busting out laughing. For me especially, when Ron is supposed to be unmoved, which is quite frequently, especially in the face of Andy or Leslie just being the most amazing clown right up in my face, it can be really difficult. But at the same time, that's what makes the job so fun — when we do have a moment to break out and laugh at each other, because we're watching the funniest work going today."
In Fact, He's a Giggler
Perhaps my favorite thing I learned about Offerman was something Schur let slip when he talked about how much the cast laughs on the set. Schur said: "I'm an uncontrollable giggler, as is Nick, as is Amy, as is Aziz. Everyone on our show loves to laugh and giggle. It makes for such a nicer, more-friendly environment."