Nick Offerman Interview Parks and Recreation
Nick Offerman Says Ron Swanson Will Get a Love Interest on Parks and Recreation
Parks and Recreation may be on a break for the Summer, but star Nick Offerman still has a lot going on during the hiatus. Between going blond and handling a few film projects, he's found time to represent Budweiser's "Grow One. Save a Million" campaign to conserve water for World Environment Day, which is today. The actor chatted with me about it, as well as his Parks and Rec costars and what's next for his character, the delightfully grumpy public servant Ron Swanson.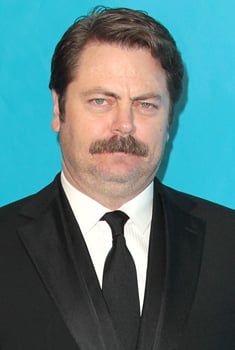 BuzzSugar: How is the dynamic going to change in the Parks and Rec department now that Leslie won't be working in the office?
Nick Offerman: Well, I'm really curious to see how that's going to change as well. I know they're going to have her working on the city council part-time and still working as the deputy director in the office part-time, and one thing that will be funny is that sometimes she'll be Ron's superior in the government, and then she'll come back and work underneath Ron in the office. So I'm sure that'll create some really great conflicts between the two of us.
Buzz: Do you think his relationship with Leslie is going to change a lot?
NO: I'm sure Ron will find himself in some situations where he's chewing on his mustache because he's frustrated with things that Leslie will make him do.
Buzz: What else are we going to see for Ron next season?
NO: Well, I heard a rumor that we might see some more of a romantic life for Ron. Whether that means a lady partner or perhaps a new source of meat or a firearm, I don't know, but there'll definitely be some new love in his life.
Find out more about what's next for Ron on Parks and Recreation, including what kind of woman he needs, after the jump.
Buzz: Where is the direction of Ron's life going next season?
NO: I think that the writers are looking to see Ron in a more domestic situation. There's a lot of talk about what kind of woman would Ron be able to actually have a lasting, healthy relationship with. We know that the relationships that he's had have not worked out too well, and so I think it would be fun to see what kind of compromises Ron has to make in order to get along with a lady in a lasting way.
Buzz: What kind of woman does Ron Swanson need?
NO: Gosh. Well, you know, she's going to have to be a very strong woman. I think Ron's dream woman would be a WNBA player who likes the great outdoors and is handy with tools.
Buzz: Will your wife, Megan Mullally, be back on the show?
NO: I know that there's one story that they're thinking about for Tammy Two. I think, traditionally, as long as we're making the show, she should probably be on at least one episode every season. We love having her so much, and she's so funny on the show.
Buzz: How has the hiatus from the show been?
NO: It's been really nice. I've gotten to work on some other projects and spend some time with my wife, but having such a dreamy job as Parks and Rec, I don't like the hiatus to go on for too long. [Laughs.]
Buzz: Are there any of the cast members you miss a lot right now?
NO: I miss everybody, but Chris Pratt I miss the most. He's so much fun to be around. He makes me laugh every day.
Buzz: What other projects are you working on right now?
NO: I'm getting ready to do a film called Toy's House, which I'm really excited about, and then I think later in the Fall I'm working on a film called We're the Millers for New Line, which is a really great comedy. The first thing I did in my hiatus was a Diablo Cody movie, which it doesn't have a title yet, but I play the husband of Holly Hunter and we're the parents of Julianne Hough. Working with those two ladies was just an incredible joy and a wonderful education.
Buzz: What is it like working with Amy Poehler?
NO: It's unbelievably wonderful. You know, even if Amy was a jerk, it would be incredible because she is so funny, but beyond being so incredibly talented and so much fun to play with, she's also just a great leader. She works the longest hours of anybody and is always in a good mood, and she's always keeping everybody energized, and when things start to sort of drag down on set, Amy will get up and perform a hip-hop number and get everybody dancing, and it's just really fun.
Buzz: Do you have any favorite moments from season four?
NO: It's always hard to pick those out because every episode has five or six of my favorite things, but you know what, there's two things that come to mind. One is Chris Pratt in the bus tour episode. That was a tour de force for Bert Macklin, his alter ego. And then another thing was, in the season finale, Adam Scott had a scene with me where we're drinking scotch, and his reaction to the scotch is one of the funniest things I've ever seen.
Buzz: You're promoting Budweiser's "Grow One. Save a Million" campaign. What can you tell us about it?
NO: We have World Environment Day approaching on June 5, and Budweiser has this great campaign where you can go to the Budweiser Facebook page and click on "Grow One," and what that means is we're encouraging men to grow a beard, and together, in this movement, we can save a million gallons of water. A lot of people don't realize that when you're shaving and you leave the faucet running, on the average you waste about five gallons of water every day. So guys can stop shaving to help save the planet, and women can also sign up men in their lives, and men and women can take shorter showers and turn off the faucet when you're brushing your teeth.
Buzz: So it's a conservation effort and we get to see more facial hair on men.
NO: Yeah, it's win-win, and for the first time, by doing nothing you can help save the planet.
Buzz: Have you gotten any of your co-stars to grow mustaches or more facial hair?
NO: Yeah. Chris Pratt always, always gets in there with me. He likes to grow whiskers. Adam [Scott] and Aziz [Ansari] I don't think have quite reached that level of development where their beards have come in yet, but I'm sure any day now.
You can watch some footage from the interview below to hear Offerman talking about Parks and Recreation and his campaign with Budweiser.