Nicolas Winding Refn Interview About Drive Soundtrack and Ryan Gosling
Drive Director Nicolas Winding Refn Says Ryan Gosling "Is the Only Guy Who Can Wear a Satin Jacket"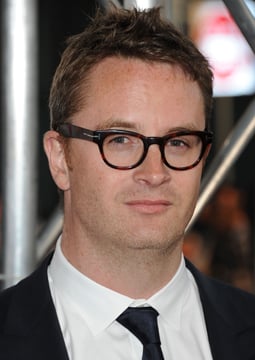 Nicolas Winding Refn directed this Fall's critical hit Drive, starring Ryan Gosling as a stunt driver who gets involved in a messy situation trying to protect his neighbor and crush, played by Carey Mulligan. The film has had audiences buzzing over Gosling's performance, the movie's soundtrack, and the brutal but creative violence. I had a chance to talk to Refn this week about the film, and the director talked up his "hero" Gosling and their fruitful creative relationship (Refn and Gosling have two other films in development: Only God Forgives, currently in production, and the remake of Logan's Run). Check out the interview for Refn's thoughts about Gosling, and other elements of Drive, like the music, the casting of Mulligan, and the driver's unique wardrobe.
BuzzSugar: How did you feel about Ryan's performance in Drive?
Nicolas Winding Refn: I think that he's one of those rare actors that has this gift that very few movie stars have ever had, which is that he can say a thousand words without saying a line. He has this talent that's so unique that only maybe Alain Delon and James Stewart had. You can shoot him from all angles; you can almost place him behind a door and you still sense his presence, and his vulnerability and his strength, and so forth. He's the kind of guy who makes acting look really easy.
Buzz: How did you choose the distinctive jacket for Driver to wear?
NWR: I always wanted him to wear a satin jacket, that would illuminate him at night like a knight. It would illuminate his aura. And Ryan Gosling is the only guy who can wear a satin jacket. And then we came up with this scorpion on his back, because it would give him a symbol.
Read more of my interview with Refn to find out how he chose the soundtrack and Carey Mulligan after the jump.
Buzz: There's a video out called Quiet Ryan featuring scenes of Gosling being totally silent.
NWR: Oh, wow.
Buzz: There are scenes from Drive; why did you want him to say so little in the film?
NWR: It made him more of a mystery; it made him more of an enigma.
Buzz: Was any of his dialogue cut?
NWR: Oh, most of it. He said a few more lines. He probably said five more lines.
Buzz: Did you consider ending the movie with the Driver dying instead of Albert Brooks's character?
NWR: No, never. Heroes don't die. In fairy tales, which is essentially what Drive is — it's structured like a Grimm's fairy tale — heroes don't die. They're indestructible.
Buzz: So Driver is a hero?
NWR: He's a hero! Even the song says he's a hero.
Buzz: That's right; "A Real Hero" by College plays twice — why?
NWR: I love that song, and I thought it was interesting; it was almost like a fairy tale: "a real human being and a real hero." Which is essentially what Ryan Gosling is. That was the great experience: that he was a human being in my life, but also in the movie he was my altar ego hero.
Buzz: How did you go about putting together the soundtrack?
NWR: Well, I wanted something very feminine that would counterbalance the masculinity and the violence.
Buzz: Carey Mulligan's character Irene was originally supposed to be Hispanic, so why did you change it?
NWR: Well, Carey called and asked if she could meet, and I'd never met her, except once a few years before. So we met in LA and I automatically wanted to protect her. She really changed everything, and she was the missing link for the movie to work, for me, so I cast her.
Buzz: Is it true that Hugh Jackman was originally supposed to play the role of Driver?
NWR: Well, originally Universal wanted to make a much different movie, and I think it was developed for Hugh Jackman for many years. But when I took it over, Ryan changed things to what he wanted to make, and Universal didn't want to finance it, and neither did the other studios. So we had to get independent financing, which was pleasurable because that's the world Ryan and I really know and feel comfortable in.
Buzz: Did you have to make any compromises with the studio, FilmDistrict?
NWR: No. I have to say, I had a very rare experience in Hollywood where everything just worked out in the end. And it was never difficult; there were, of course, discussions that we had to have, because it's good to be challenged. I would have the same kind of discussions with my father in the editing room on my older films. But in the end, there was great respect by [producers] Marc Platt and Adam Siegel to let us make the movie we wanted to make.
Buzz: You and Ryan have developed a productive creative relationship and a friendship; how did you find that bond?
NWR: I guess it was that we realized we had a telekinetic relationship. We were able to become one person.
Buzz: Did Ryan have input about his character?
NWR: Absolutely. That's why he's a great actor, because he gets involved. That's what you have to do as an actor. As an artist, you have to throw yourself into what you do with everything you have. I always like to work with people that I can ask what they think, or ask them what they would like to do. You want to collaborate with them. Making a collaborative art is very close to a sexual relationship. It's about figuring out what the other one likes and how you can use that with what you like to make something better. So there is something very sexual about making movies.
Buzz: The elevator scene is very graphic; why was it so important to make that choice?
NWR: Because it's love and violence, all combined in one image.
Buzz: How did you come up with some of the film's creative murders?
NWR: Essentially I'm a fetish filmmaker. I make films about what arouses me.
Buzz: Were there other ideas for gruesome kills that didn't make it into the movie?
NWR: I took all those images and put them in Only God Forgives.