Nicole Kidman to Play Nicolas Cage's Wife in Trespass and Clive Owen's Wife in Hemingway and Gellhorn 2010-06-16 12:30:00
Nicole Kidman to Play Wifey to Nicolas Cage and Clive Owen
Nicole Kidman is on a very diverse marriage track — on the big screen, I mean. First, she'll team up with Nicolas Cage in the thriller Trespass, where she and the eccentric actor will play a husband and wife who get kidnapped and taken hostage. Joel Schumacher will direct the action-adventure.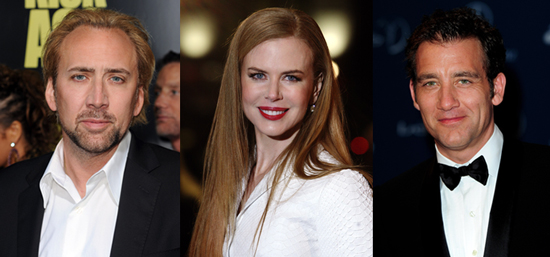 Meanwhile, over on the smaller screen, Kidman will play Martha Gellhorn in Hemingway and Gellhorn, an HBO film about the lives of Hemingway and his wife. Clive Owen is set to portray the legendary writer, while an HBO alum is producing: James Gandolfini.
Besides the marriage angle, the other things these projects have in common is intensity: Trespass has its hostage plotline, while Hemingway and Gellhorn promises to show the famously stormy relationship of Hemingway and fellow novelist Gellhorn. Well, you know what they say: for better or for worse.