Nicole Scherzinger Wins Dancing With the Stars
Nicole Scherzinger Wins DWTS: Spot On or So Wrong?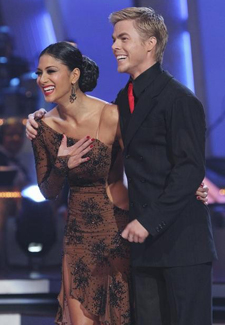 Let's dish about the finale of Dancing With the Stars! I mean, is it possible to be surprised and not surprised at the same time? From the get go, I predicted that Nicole Scherzinger and Evan Lysacek would make it to the final two, but I never thought Scherzinger would actually take it like she did. I mean, she's already a professional dancer! And while she may be the most skilled on the show, doesn't that seem a little, well, unfair?
Truth be told, I thought Erin Andrews might pull off an upset after her performance this week, and the audience seemed to like her and her little — OK, big — flirtation with Maksim. But even despite Andrews's charm and Lysacek's smooth moves, Scherzinger still took home the giant disco ball. Do you think she was the best pick?